is a place where city people who feel stressed, disconnected and tired can slow down, recharge, and reconnect to themselves again by first reconnecting with nature.
For those interested in wellness and love nature, Museflower Retreat & Spa is an all-inclusive cozy retreat center in peaceful Chiang Rai, Thailand. We offer healing, learning, and natural living practices.
We host yoga, meditation, wellness, and healing retreats with our resident and visiting practitioners. Our retreat center is ideal for creative workshops and trainings; spa therapies; and eating the freshest, nutritious organic vegetarian cuisine.
You don't need to be a yogi, health nut or stressed urbanite to join us! We welcome all travelers who want a mindfully green, health-conscious place to stay while visiting and exploring Chiang Rai.
Museflower Retreat & Spa was created specifically as a holistic wellness sanctuary by founder Tania Ho, a wellness professional who combines her international spa industry experience with the therapeutic skills of professional holistic experts. This is a place that nurtures creativity and promotes well-being.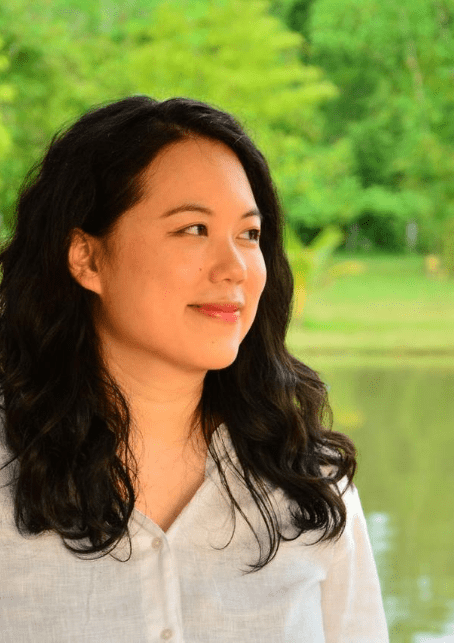 It Started With a Personal Healing Journey
For founder and spa owner Tania Ho, flowers and nature have been her inspiration throughout her life and have played a significant role in her personal healing journey.
Tania's interest in natural health was first sparked by aromatherapy in her teens. When she was age 25, her father suddenly passed away after a severe illness. It was a shock and trauma to her family. The grief of his loss led her to leave her job as a luxury resort spa manager to search for personal healing through alternative health therapies that focused on emotional and mental wellness. This in turn led her to rediscover flower essences.
"My father suffered from depression, so I knew that healing emotions was key to a healthy life.
"I attended a couple of healing retreats in Chiang Rai and fell in love with this place. That same year, I had the opportunity to join in a venture to build a retreat center in Chiang Rai, and two years later, Museflower Retreat & Spa was born.
I wanted to create Museflower as a comfortable place where people can find help for emotional, mental, and physical stress, just like I did. "
The focus on helping others find balance through emotional and mental wellness is the legacy of her father's passing. It's the core of Museflower's healing philosophy, and what sets it apart from other wellness retreats that tend to focus on the physical aspects of well-being.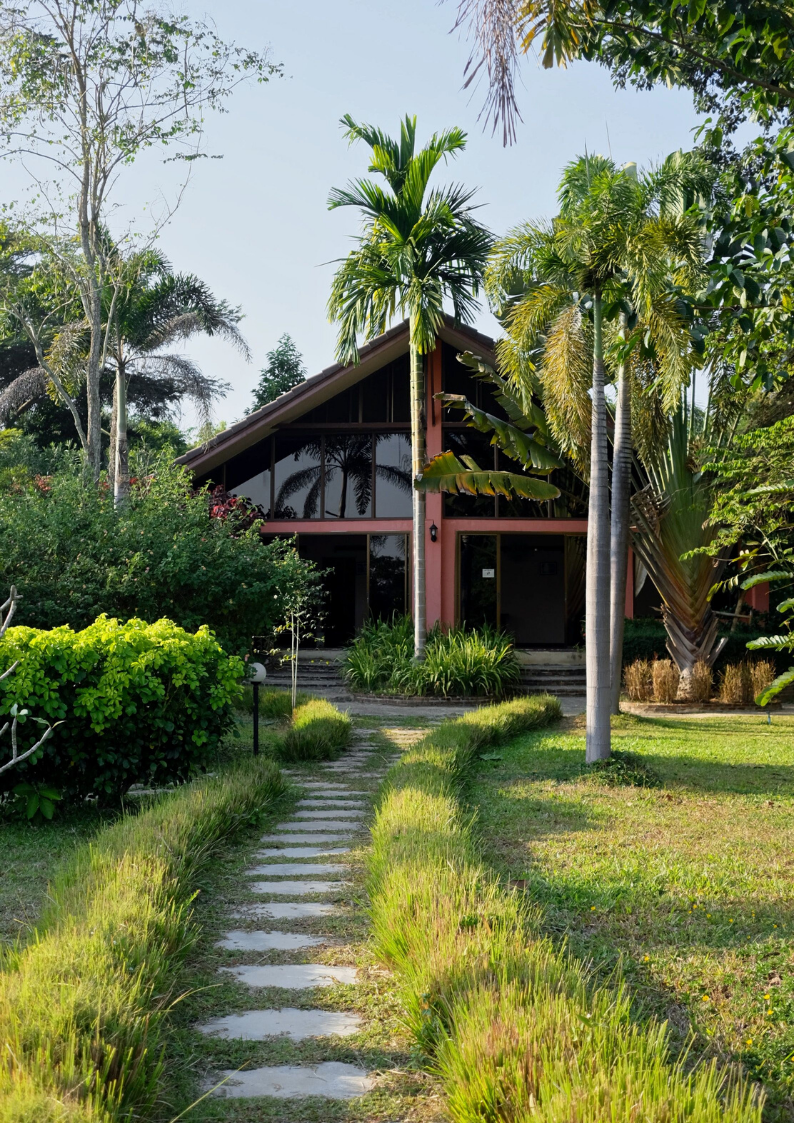 At Museflower, we believe that emotional and mental wellness is related to creative energy, and is key to overall well-being.
Says Tania, "When our creative energy is stimulated, when a new idea clicks in the mind, we get completely excited, and our body and spirit become infused with a new flow of energy.  Our sense of purpose is renewed, and it gives us the fuel to move forward in life.
When we channel our entire focus into a creative effort, it is a meditation in itself, and is healing for the mind and the spirit. When the mind and spirit are healed, the physical health will follow."
Museflower is a word created by Tania to mean something that stimulates the blossoming of creative energy within us.
Flowers led Tania's path to healing and are her muses for creative inspiration. In Flower Essence therapy, every flower has a special message and pertains to a certain topic in life.
Every flower, plant, tree, and animal in nature, serves as a muse, inspiring and assisting us on our personal spiritual journey.
"I hope that every guest who comes to Museflower will be able to find their own 'Museflower' here. A 'Museflower' is something, at first intangible and exists as an invisible energy form, until you connect with your energy of creation, and envision this spark of inspiration in your mind's eye. Then you can bring it into your consciousness, transform it from formless into form."
Founder & owner of Museflower Retreat & Spa
Healing Energy from Nature
Museflower Retreat & Spa is a place that offers a tranquil space to allow inspirations from nature to come, and hopes to inspire creative energy from natural surroundings.
Museflower offers various holistic retreats and workshops that help awaken and stimulate our creative energy. We believe that each of our offerings is like a "museflower" to our guests – an inspiration for our guests to find some creative energy that blooms inside them.
Museflower Retreat & Spa welcomes teachers and trainers looking for facilities to host their eco-spiritual retreats, detox spa retreats, yoga spa retreats, yoga teacher trainings, awakening retreats, creative workshops, seminars, and corporate team-building retreats.
"We hope that our guests can attune themselves to the Museflower vibration – which helps to connect to the creation energy inside them – and come away feeling that they can achieve new possibilities in their lives."
Founder & owner of Museflower Retreat & Spa
The Practice of Simple Bliss
We are submersed in a world where marketers define that having more things and doing more things equal happiness. We constantly are trained to seek happiness externally. If we have a bigger car, a bigger house, or more houses, then we'd be happier.
Traditional hotels are also the same. The hotel industry has set a standard for five star, four star, three star ratings for hotels based on amenities they provide. If you don't have a swimming pool in your hotel, it is not possible to be a four or five star hotel. Coming back to think about it, can't a hotel still offer 5 star quality service and product without the pool?
We are used to staring at a computer screen during work, stare at our smartphones in between breaks and during commute, stare at the TV when we are back home, and stare at the smartphone again before falling to sleep. And then when we wake up again, we stare at the smartphone again.
Often times we became so lost in this busy world that is constantly bombarding our senses, that we forget a simple truth
– Simple is Bliss, Bliss is Simple.
Listen to the birds chirp in the morning.
Breathe in fresh air.
Feel the breeze.
Watch the sun set.
Taste herbs and vegetable freshly picked from the garden.
Connect with another human face to face. A smile is no longer an emoji but an actual smile.
At Museflower, we want to remind our guests how the simplest things can bring us the biggest joy.
When we are stripped away of all the entertainment – the TV, the internet, the smartphone, do we know how to spend our down time?
When we are stripped away from air-conditioning, do our bodies still know how to regulate our body temperature?
When everything external is only a reflection of our inner world, then are we quiet enough to listen to what our inner self is saying to us?
At Museflower, you will not find a TV nor WiFi in your room. There is no IPOD dock, nor radio. There is no telephone, nor a working desk.
Museflower Retreat & Spa is a space where city people who feel stressed, disconnected and tired can slow down, recharge, and learn to reconnect to themselves again starting by reconnecting with nature.
Look at the stars in the night sky is more high definition than any HD TV.
Listen to the thunderstorm gives you better surround sound than home theatre.
Leave your room to speak to a person face-to-face gives you more reason to exercise.
Give yourself the time and space to feel your inner being – smiling, crying, inspired.
we want to remind how simple
BLISS
can be.
This is a place to BE the TRUE You.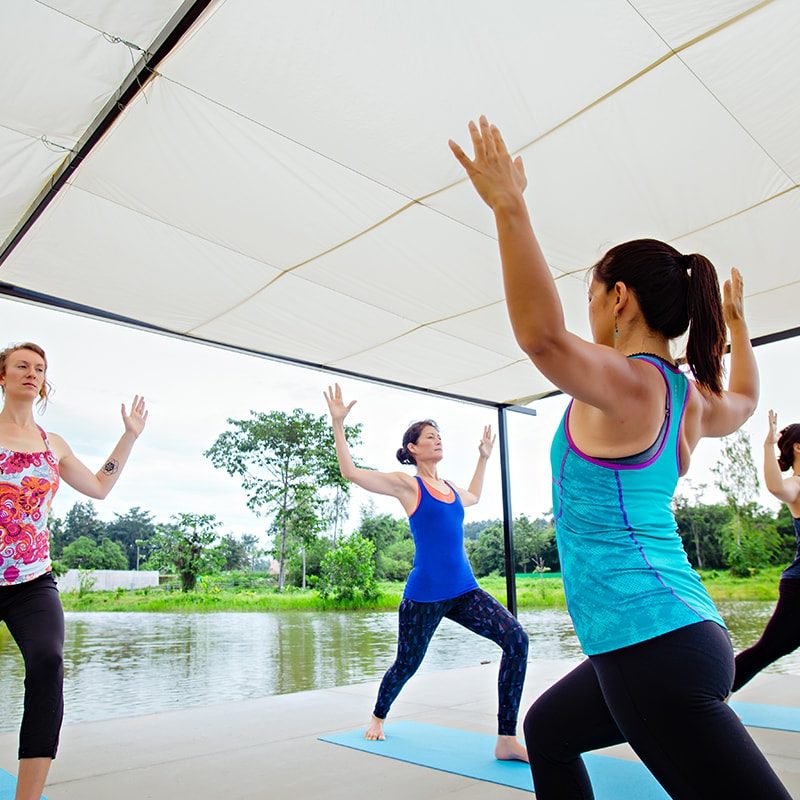 Retreat Chiang Rai Package
A little yoga escape in Chiang Rai's green hills can do wonders to unwind your body and mind.
Let our Thai natural spa retreat be your place to nurture and refresh yourself among Chiang Rai's tranquil lakes and rice fields.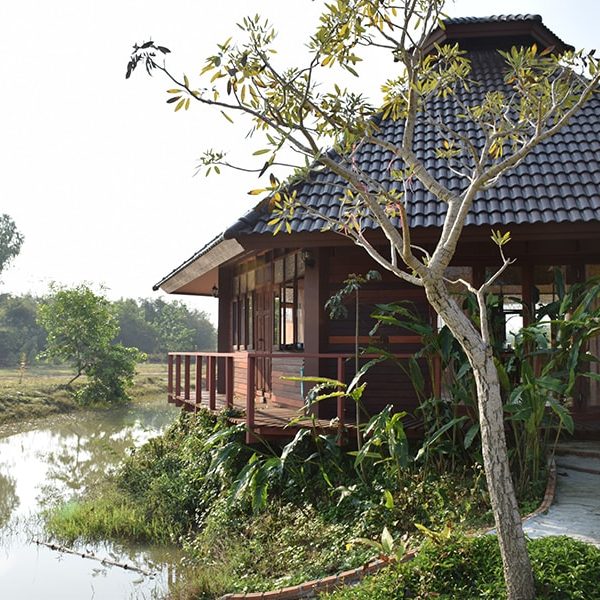 Enjoy a night at Museflower to enjoy our lacto-ovo vegetarian food and wellness activity at your own pace.