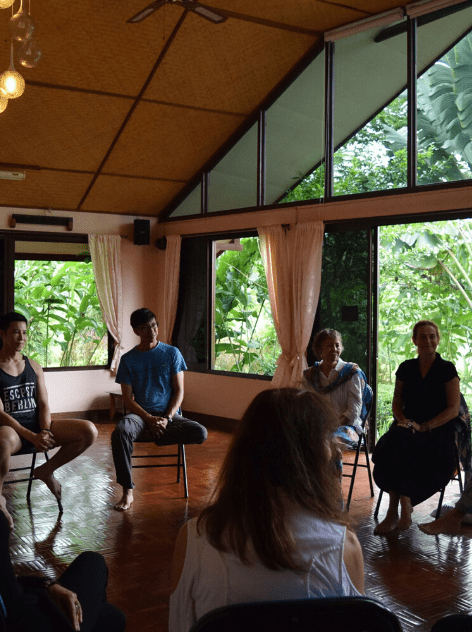 Our indoor activity room is 76m2 large, and is equipped with projector and screen, stereo system, ceiling fans, yoga mats, chairs and tables if needed. The room can fit about 20 mats, 50 people sitting in theater setting and 30 people with tables.
The Butterfly Room can be rented for teachers or practitioners who want to hold their own retreats or meetings there. The rental rates go for hourly (min. 2 hours), half day (4 hours), full day (8 hours), or exclusive (12 hours) basis.
Full-day rental fee (8 hours) will be charged for groups renting the center to host their own retreat program, regardless if the group may or may not use the activity space for all eight hours. The Butterfly Room, as one of the venues for hire, is named with the inspiration of the symbol of a butterfly – the transformation from a caterpillar to a beautiful butterfly.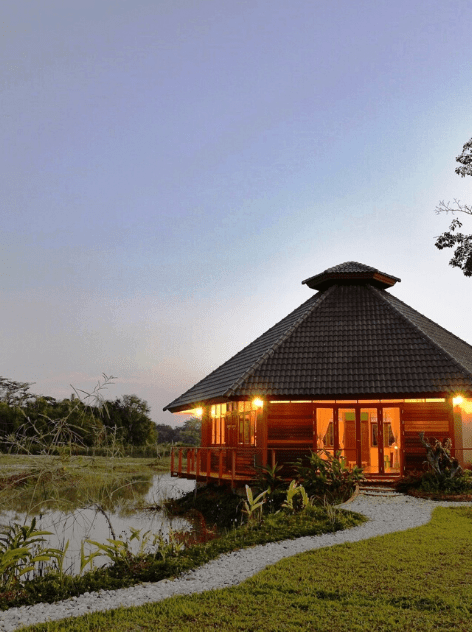 Situated by our lakeside facing our organic farm, our Meditation Pavilion is unique venue for hire, specially designed and built in a hexagonal shape with wood and a high ceiling. This space is equipped with a stereo system that can be connected to your laptop or phone, wall fans, yoga mats, tables and chairs.
Essentially the heart of our Retreat & Spa center, this is an ideal sacred space for meditation, sound therapies and passive activities such as Yoga and Tai Chi. The space is 86m2 large, and can fit about a maximum of 25 mats or with 36 people sitting.
Our Meditation Pavilion is generally reserved for retreats hosted by Museflower Retreat & Spa. However, on dates that we do not hold our retreats, groups are welcome to rent this space for their workshops or retreats.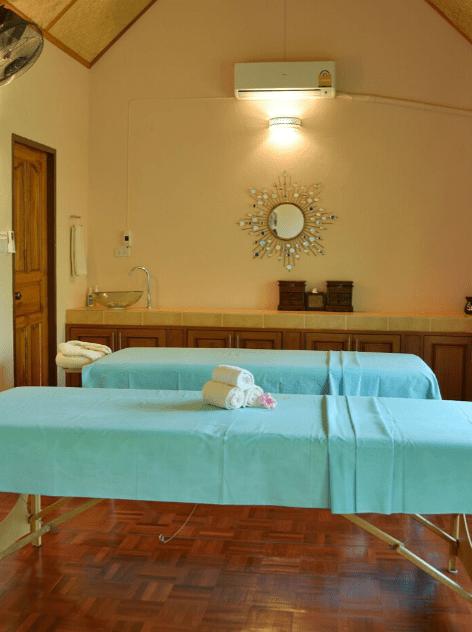 Private Spa
Treatment Room
Museflower Retreat Spa Garden Sala Consultation
A private spa treatment room can be rented at an hourly basis, so practitioners can conduct their private sessions at a peaceful and quiet environment. Our spa treatment room is equipped with air-conditioning and wall fans.
With simple bungalows clustered around a small lake, our down-to-earth accommodation and community environment lets you feel at home surrounded by friends among fellow guests and our team members.
A total of 16 rooms where we can fit a maximum of 36 guests (if all shared).
Soul Food Corner is our community dining room where guests gather for family-style, buffet dining. Along with serving our three delicious vegetarian meals daily, this is the place where the nourishment of the soul takes place, either with physical food, games, books, or carefully selected movies. This is where we will hold our vegetarian cooking demonstrations as well.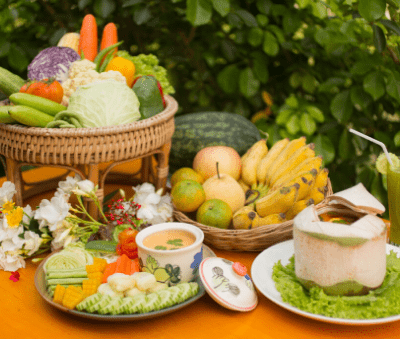 A perfect time to reconnect to your body, mind, and soul, with the use of our natural Thai spa products and traditional spa therapies. Our Museflower Spa offers facilities and therapies are selected to relax, de-stress, refresh and rejuvenate the body and mind. Our spa is open for treatment from 10.00am – 7pm daily, and our spa facilities (such as Herbal steam) is open from 10.00am to 9pm daily.
Optimize your Retreat Experience with Movie and Music
Butterfly Room: Projector screen, stereo system for CD / DVD or USB, one audio cable to connect to laptop / Smart phone, 2 x microphones
Meditation Pavilion: Stereo system for CD, one audio cable to connect to laptop / Smart phone
Spa Treatment Room: air-conditioning, one treatment bed, chairs
Living Room at Soul Food Corner (complimentary use): air-conditioning, sofa, TV screen (with USB plug), DVD player, HDMI cable available
Rent the Entire Retreat Center for Your Group Only
For groups who want to rent the entire Retreat & Spa for their exclusive use, we are happy to offer this option with a minimum payment equivalent to 18 people per night or 14 single rooms per night including organizers, plus the daily fee for renting the facilities and spa exclusively.
Exclusive rental fee starts from the date of arrival till the date of departure.
Spa exclusive rental fee will be waived for groups who will book a min. of one spa treatment per guest or allow outside guests to use Museflower Spa during exclusive rental period.
All exclusive rental bookings must pay a non-refundable 40% deposit 6 months prior to event date.
Please feel free to check our Retreat Center Availability by visiting our Class & Events Schedule.
Please note that Museflower Retreat & Spa can only cater for one small retreat group (about 10-12pax per group) at the same time with Museflower own retreat guests.
One group can use the Meditation Pavilion, while the other group can use the Butterfly Room.
However, please note that retreats organized or hosted by Museflower Retreat & Spa will have first priority to use the Meditation Pavilion and other facilities.