Spa Thailand Getaway
Rejuvenate your spirit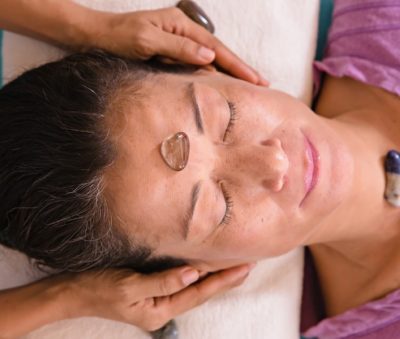 Museflower Spa Thailand Getaway Package Introduction
– Available All Year Round –
Some of Asia's best spa retreats are in Thailand, and Thailand's gentle north is a traditional place to retreat to nature among peaceful green hills offering a lush bounty of fruits and flowers.
Let our Thai natural spa retreat be your place to nurture and refresh yourself with a relaxing wellness holiday among Chiang Rai's tranquil lakes and rice fields.
Our special Museflower Spa Thailand Getaway Package will nourish you with fresh organic vegetarian food, daily Thai natural spa treatments and gentle fitness classes including yoga and stretching.
Make it a short weekend or weeklong health and wellness escape in Thailand to help you relax and reboot your energy at any time of year.
As one of the leading boutique natural Thai spa retreats in north Thailand you will be able to give your wellness a real boost, residing in nature, benefiting from the health spa treatments and enjoying rejuvenating practices such as yoga and cycling.
Museflower Retreat & Spa is a retreat center that boasts a personal touch, due to its boutique nature and spa therapists who can offer a range of refreshing natural spa treatments.
The perfect place to nurture your wellness, Museflower is an idyllic spot to unwind and nurture your nature.
This Retreat Is For You If You Enjoy…

Feel nurtured and refreshed with a variety of our wellness activities

Relax your body and mind with soothing spa treatments
Be connected to nature with clean air and organic food
Feel lighter with our lacto/ovo vegetarian food, therapeutic herbal steam and mineral bath
Reboot and revitalize your body, mind, and spirit
Connect with others in a group setting
Inclusions of Museflower Spa Thailand Getaway Package 2023
3 /5 /7nights of accommodation with 3 lacto-ovo vegetarian meals per room night
Two group wellness class daily, for example yoga, stretching, QiGong, etc.
Daily Spa Treatment as per below
One group vibration healing wellness class 90 mins
Roundtrip airport or bus terminal pickup in Chiang Rai
Complimentary spa gift from The Museflower Boutique
Complimentary wireless internet access at public areas
Complimentary access to Himalayan crystal salt water swimming pool
Complimentary unlimited access to Museflower Spa's wet facilities (herbal steam + mineral bath)
Museflower Spa Thailand Getaway Treatment Inclusions
1 x Signature Massage 90 mins
1 x Body scrub 60 mins
1 x Foot Massage 60 mins
1 x Vibration Healing Wellness Class 90 mins
1 x Signature Massage 90 mins
1 x Body scrub 60 mins
1 x Foot Massage 60 mins
1 x Vibration Healing Wellness Class 90 mins
1 x Thai Massage 90 mins
1 x Indian Head OR Back & Shoulder Massage 60 min
1 x Signature Massage 90 mins
1 x Body wrap 90 mins
1 x Foot Massage 60 mins
2 x Vibration Healing Wellness Classes 90 mins
1 x Thai Herbal OR Cupping Massage 90 mins
1 x Indian Head OR Back & Shoulder Massage 60 min
1 x Natural Hydrating Facial 60 mins
1 x Body Scrubssage 60 mins
1 x Holistic Therapy Session 90 mins (choice of any 90-minute session with resident practitioner)
For Holistic Therapy 90 mins (Spa Getaway 8 days / 7 nights Package): you may choose any holistic session with our resident practitioner (Watchararat, Tania).
Please inform or consult with our Reception at the beginning of your stay, so we can schedule your private session accordingly.
All holistic sessions are subject to the practitioner's availability.
Watchararat Srichamroen (A)
Heart-Based Meditation Teacher & Intuitive Soul Guide, Museflower Retreat & Spa Owner
Suggested Retreat Itinerary for Museflower Spa Thailand Getaway Package
Please note that actual times of activities may change depending on instructor and spa availability. You will receive your itinerary upon arrival.
Daily itinerary can be customized based on your needs. Get in touch here and we can discuss the best daily routine for you.
Please make sure to arrive latest before 3pm for the first wellness class.
Book your retreat package
Contact us for a customized retreat package price, just let us know the number of nights and your requirements.
A minimum of 3 nights are required for customized packages.
10% discount at The Museflower Boutique (except consignment products, drinks and snacks)
15% discount for additional spa treatment, holistic therapies by resident practitioners, and private or group wellness activities from spa menu (exclude workshops, and bicycle rentals)
10% discount for additional room night from regular room rate
Cycling around our natural surroundings and visit our big lake
Private or group wellness activities and classes such as massage workshop, cooking demonstration
Holistic healing sessions with resident or visiting practitioners
Sightseeing excursions to the famous Chiang Rai attractions, such as the White Temple or tour the Night Bazaar
Nature trekking tours exploring hill tribe area in Chiang Rai
Golf excursions in nearby golf resorts
Explore Chiang Rai town's night bazaar, cafes and restaurants
Car transport to Chiang Mai
I have never participated in a retreat before and I am so glad I did! My stay here exceeded all expectations and my only regret is not staying longer!

This is the perfect escape from the city to get REAL peace and quiet and get proper rest and sleep. The staff always remember me when I come back – it feels like a second home.

Found my inner 'goddess' here!

My stay at the Museflower retreat has been an amazing experience. I have learnt so much from the yoga practitioners whilst the spa treatment have allowed me to relax & reset my mind and body. I can't wait to share positive energy I have gained from this wonderful place & its staff with memorial with love & gratitude.


Ready to take the plunge?