Media Reviews & Press Contact
The media loves Museflower Retreat & Spa!
Here are some of the many reviews, articles, and Top Lists that have featured us in leading international publications around Asia and the USA.
BANGKOK POST SUNDAY MAGAZINE THAILAND
"Wellness at Home", June 14, 2020
"Classes include yoga and meditation, full moon transformation practice, a shamanic journey to meet your spirit animal, a summer solstice celebration, interior design tips to create a soulful sanctuary at home, and a soul writing class."
"This Chiang Rai Retreat is Rolling Out Free Online Wellness Classes", June 4, 2020
"Following on from the well-received "Soul Sharing Circle" back in April, Chiang Rai's vegetarian holistic wellness retreat Museflower Retreat & Spa is teaming up with like-minded professionals to introduce more wholesome classes."
"Wellness Guide 2020", March 2020
"Here you will find Thailand's first Himalayan crystal salt swimming pool, a floating lake lounge, a meditation labyrinth, hot mineral baths, and cozy cottages clustered beside a private lake, set among lush gardens and forests. Wellness offerings include holistic healing, spiritual wellness classes and writing and meditation retreats, in addition to top-notch and affordable spa treatments."
BANGKOK POST GURU MAGAZINE THAILAND
'Wishing You Well Treat Yourself to a Wellness Retreat", January 10, 2020
"This retreat acts in equal parts as a hideaway resort, a spa and yoga studio and a holistic healing centre. All treatments pay attention to physical, emotional, mental, and spiritual well-being."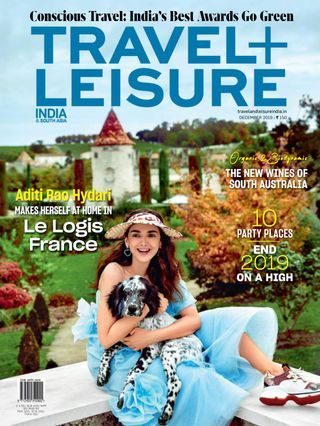 "Go to Chiang Rai's Museflower Retreat & Spa for a Wellness Break", December 2019
"…underneath all my skepticism, Museflower turned out to be a surprisingly humbling experience … I also found a desperate need among my fellow retreaters for a kind of reaffirmation that they had travelled far, some literally, some metaphorically, to find. A hulking Scottish man in his 50s or 60s cried in a room full of strangers because the ancestral meditation reminded him of his lost connection with his parents. A Dutch woman travelling across Asia with her family had taken a few days alone to recharge. A Singaporean woman was on her annual pilgrimage-with-self. And I, determinedly skeptical yet unwittingly charmed by Museflower's gentle soul."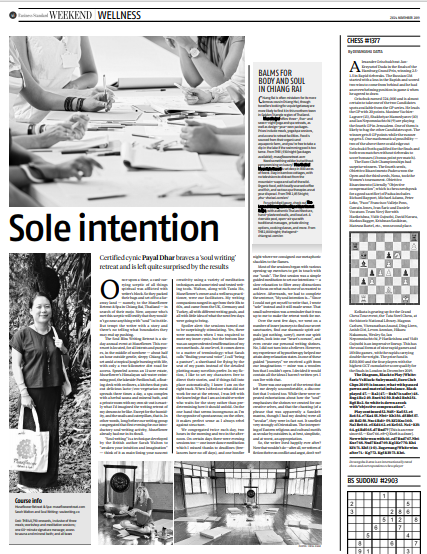 THE BUSINESS STANDARD INDIA
"A 'soul writing' retreat in Thailand's Chiang Rai converts a cynic", November 23, 2019
"Over the next few days, we went on a number of inner journeys to find our secret sanctuaries, find out shamanic spirit animals, look into our "heart's oceans", and even create our personal writing shrines …my experience of hypnotherapy helped me attain deep relaxation states. In one of these guided journeys we received a gift from our imaginations – mine was a wooden box that I couldn't open. I decided it would contain all the ideas I haven't written yet."
CHIANG RAI TIMES THAILAND
"Museflower Life Festival Brings Wellness Learning to Chiang Rai", September 12, 2019
"Museflower Life Festival is one of the few dedicated holistic wellness festivals in Thailand, and the only held in northern Thailand."
QANTAS Inflight Magazine AUSTRALIA
"Take a Breath", April 2019
"An early-morning yoga class on a pontoon anchored in the serene lake is a pinch-me highlight of this simple yet elegant eco-friendly hideaway (www.musefloweretreat.com), the ideal place to find your balance by virtue of an organic, vegetarian menu and a digital detox philosophy."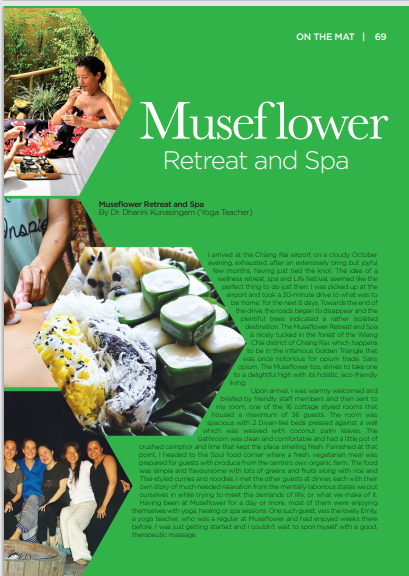 "Museflower Life Festival", Jan-Mar 2019
"The Museflower Retreat & Spa and the Museflower Life Festival was truly a wonderful, heartfelt experience that I will always cherish. From the comfort of the surroundings, to the warmth of the members of the staff, it was indeed home away from home.
ASIA SPA MAGAZINE HONG KONG
SOUL FULL – Soul Bliss Retreat at Museflower sharpens intuition and the creative voice through creative writing", Jan-Feb 2019
"The blend of meditation and writing works well easing us into creative mode before applying practical techniques, in a safe space where we felt confident sharing our innermost selves on the page.  The experience comes full circle with a closing ceremony in which we revisit our original intentions while making new ones … I found a better sense of self, optimism on writing as play – and best of all – people with whom to share it with."
"This Chiang Rai Retreat is the Perfect Spot for Some Holistic Healing", June 4, 2018
"Museflower Retreat offers a holistic wellness experience that nails all the buzzwords: eco-conscious living, organic food, yoga, empowerment and, of course, the essential Himalayan crystal salt pool. If you're looking for a retreat to help you get in shape, this relaxing camp-like sanctuary in the foothills of a national park may not be the one for you. Instead, it is the perfect destination for integrating some serious overall wellness into your holiday."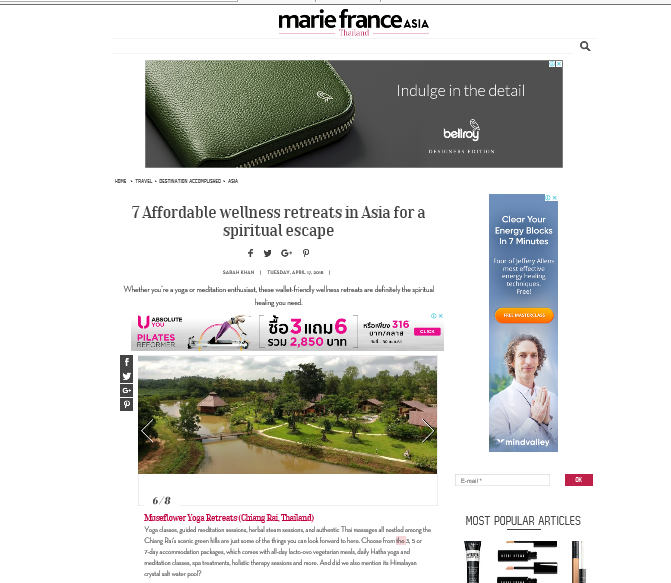 "7 Affordable Wellness Retreats in Asia for a Spiritual Escape", April 17, 2018
"Perfect for getting away from the "work hard, play harder" lifestyle, Museflower in Chiang Rai combines yoga, meditation, spa, and eco-consciousness into one peaceful wellness retreat … a welcome change for us Hong Kongers who are constantly glued to our phones, you're sure to return home to the city refreshed and ready to take on the world anew."
"Thailand's Most Wallet-Friendly Eco-Retreats", March 16, 2018
"Meals are vegetarian, with vegetables plucked straight from the soil of the facility's organic farm. Spend an afternoon soaking in the salt pool to sap away your stress and negative energy, or treat yourself to one of the signature massages."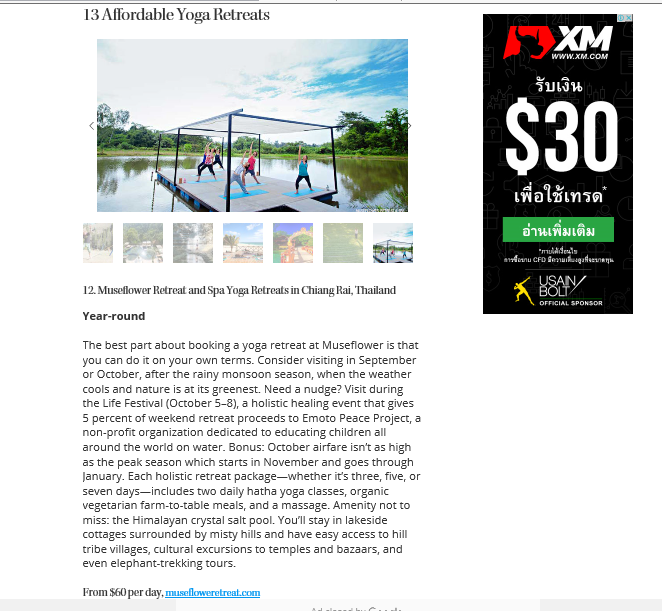 "Best Affordable Yoga Retreats for 2018", February, 5, 2018
"The best part about booking a yoga retreat at Museflower is that you can do it on your own terms. Consider visiting in September or October, after the rainy monsoon season, when the weather cools and nature is at its greenest. Need a nudge? Visit during the Life Festival (October), a holistic healing event that gives 5 percent of weekend retreat proceeds to Emoto Peace Project, a non-profit organization dedicated to educating children all around the world on water."
DEPARTURES (American Express Magazine) USA
"8 Wellness Retreats for Food and Wine Lovers", January 19, 2018
"An on-site Aquaponics system and organic garden provide most of the produce for the resort's organic lacto-ovo vegetarian meals, which are light and healthful but hardly bland—think red curry with eggplant, stir-fried zucchini with young coconut, and fried mushroom salad. "
"Quick Flights From HK: 5 Wellness Retreats to Reset for the New Year", December 12, 2017
"The all-inclusive packages include: meals, yoga classes, meditation sessions and other activities, and you don't need to be a pro yogi to enjoy the benefits of getting away from it all here. Don't expect 5-star luxury as Museflower is all about pared-back living and getting back to basics."
DESTINASIAN MAGAZINE ASIA
"Thailand A Journey into Wellness", October 2017
"You can make the most of daily yoga, meditation, and healing sessions – the comprehensive schedule of activities is just as focused on physical health as it is on self-discovery and inner awakenings, with spiritual workshops led by talented holistic teachers".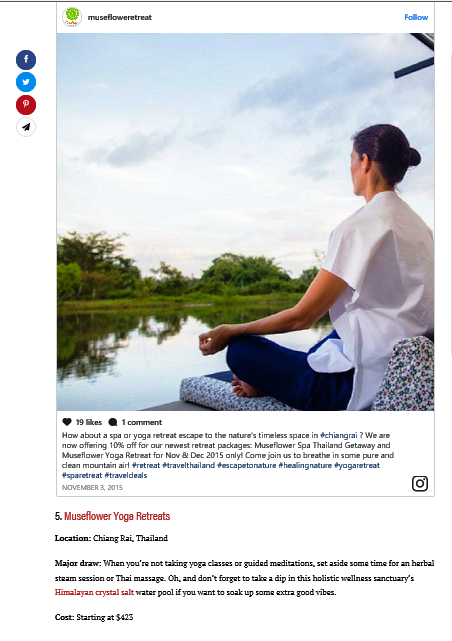 "11 Life-Changing Wellness Vacations You Can Book For Under $1,000", August 23, 2017
"Major Draw: When you're not taking yoga classes or guided meditations, set aside some time for an herbal steam session or Thai massage. Oh, and don't forget to take a dip in this holistic wellness sanctuary's Himalayan crystal salt water pool if you want to soak up some extra good vibes."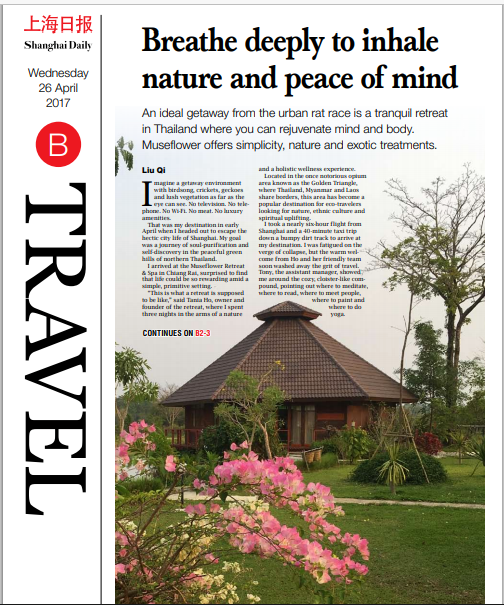 "Retreat From Urban Stress in a Calming, Healthy Environment", April 26, 2017
"I took a walk after breakfast, enjoying utter tranquility and a mind cleared of clutter. Birds, butterflies and bees fluttered around me. I felt part of nature … The four days at Museflower were certainly an eye-opening experience. I found I enjoyed the simple lifestyle, which revealed to me how we humans clutter our lives with things that we don't need to find happiness. After returning to Shanghai, I can still feel the benefits of nature in my body and soul."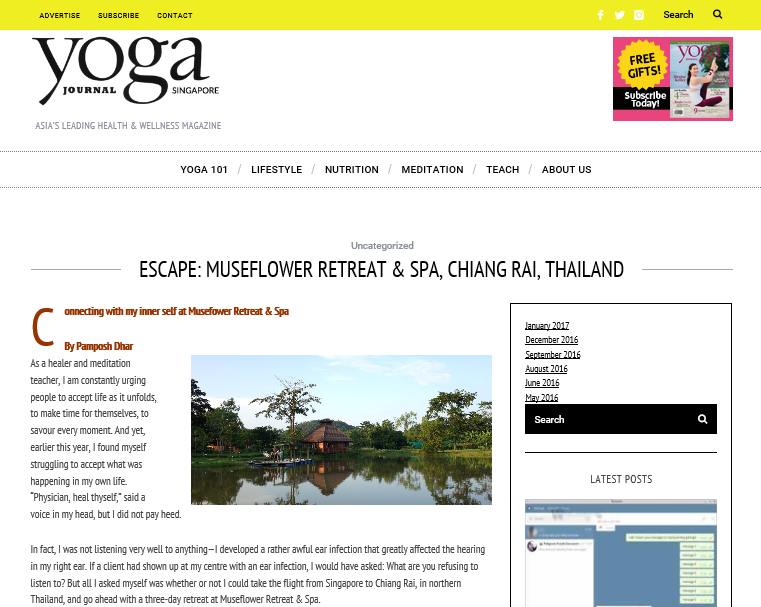 "Connecting with My Inner Self at Museflower Retreat & Spa", January 11, 2017
"That was quite a lot of reflection, learning and insight in three days! In this quiet, peaceful resort, I was able to listen to myself, my internal struggle and my inner wisdom as well. The help from the therapists, resource persons and fellow guests was the icing on the cake."
"Holistic Festival", September 26, 2016
"This is an opportunity to celebrate healing and wellness with guests from Hong Kong and the US, as well as local attendees from Chiang Rai and Chiang Mai. Discover and try different wellness modalities and learn about new alternative therapies."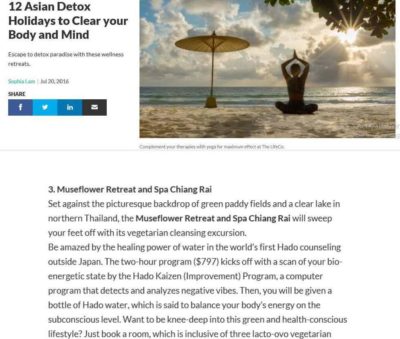 "12 AsianDetox Holidays to Clear Your Body & Mind", July 20, 2016
"Museflower Retreat and Spa Chiang Rai will sweep your feet off with its vegetarian cleansing excursion. Be amazed by the healing power of water in the world's first Hado counseling outside Japan … Want to be knee-deep into this green and health-conscious lifestyle? Just book a room, which is inclusive of three lacto-ovo vegetarian buffet meals per day and daily fitness classes".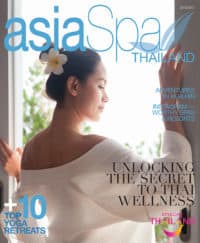 "Thailand's Top 10 Yoga & Wellness Retreats", Sept/Oct 2016
"No 1. Museflower is Chiang Rai's first and leading professional wellness center and features Thailand's first Himalayan crystal salt all-natural swimming pool (no chlorine). Offering a Hatha-focused yoga retreat, programmes are tailored for the individual depending on length of stay."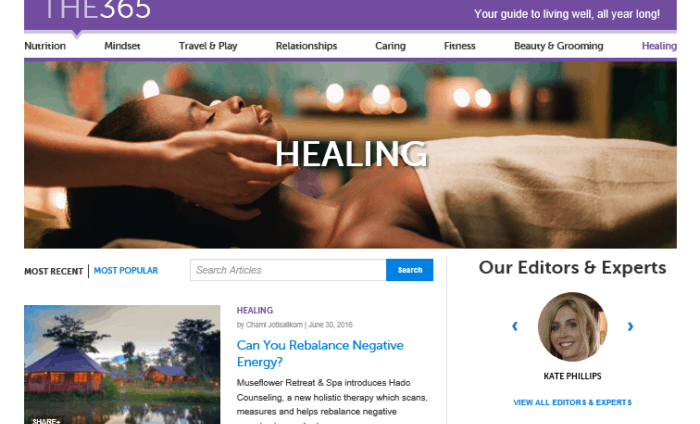 "Can You Rebalance Negative Energy?", June 30, 2016
"How's your bio-energetic state? Did you know that the body can store negative energies that affect your health? Hado Counseling, a fairly new contemporary holistic therapy, and up until now was only available in Japan, where it originated, can scan, measure and offer a solution to help rebalance negative energies in your body. Museflower Retreat & SpaChiang Rai in northern Thailand is the world's first retreat and spa to offer Hado Counseling outside Japan in English. Hado counseling sessions are given by Museflower founder and owner Tania Ho."
"Reconnect and Recharge in Chiang Rai", May 2016
"I left Museflower feeling noticeably calmer, lighter (not just in body but in spirit!) and focused. When I got back to Hong Kong, friends and colleagues even commented on how 'refreshed' I looked! I'm not someone who is super into holistic practices, but I genuinely walked away with a new perspective and outlook. I've taken on board some of the things that I learnt and I've even found that they have had a positive effect on my daily life."
THE NEW STRAITS TIMES MALAYSIA
"Retreat to Wellness", May 5, 2016
"Museflower Retreat & Spa is an alternative to the southern islands for health holidays. This simple but comfortable all-cottage escape, with a team of high calibre therapists, takes sublime treatments to the forefront of the experience … The self-contained hideaway is the brainchild of Tania Ho. The Hong Kong native, formerly with The Four Seasons, Mandarin Oriental and the highly-acclaimed Six Senses Spa chain, has embarked on a new frontier of value-driven health-wellness holiday."
THE SOUTH CHINA MORNING POST, SUNDAY MAGAZINE
"A Hong Konger's Affordable Holistic Wellness Retreat",May 1, 2016
"What's the food like? Heavenly. If you love fresh organic vegetarian food, then you're unlikely to find anything better than this. All chef Somphop Sakulchart needs to do is nip over to his organic farm and pick whatever he needs, be it salad ingredients, vegetables, mushrooms or herbs. Simple, healthy food is served buffet style, with plenty of raw salads and soups. The chef's enthusiasm for his garden is infectious and, if you ask him nicely, he'll allow you to accompany him to pick out your own duck eggs."
"Yoga Retreats You can Actually Afford", February 17, 2016
"The best part about booking a yoga retreat at Museflower is that you can do it on your own terms … Each holistic retreat package – whether it's three, five, or seven days—includes two daily Hatha yoga classes, all organic vegetarian farm-to-table meals, and a massage. Amenity not to miss: the Himalayan crystal salt pool. You'll stay in lakeside cottages surrounded by misty hills and have easy access to hill tribe villages, cultural excursions to temples and bazaars, and even elephant-trekking tours.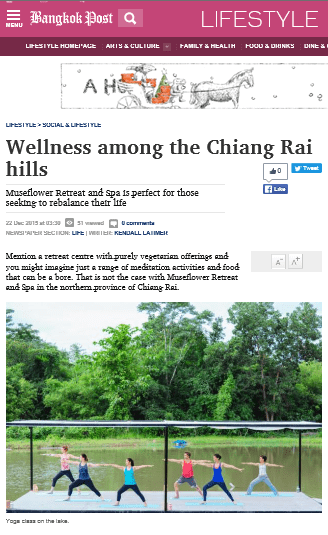 "Wellness Among the Chiang Rai Hills", December 22, 2015
"In the early mornings, the kitchen crew gathers fresh produce after stopping at the adjacent duck pond to collect fresh eggs. The meat-free meals are dished out next to the spa at the Soul Food Corner and are prepared with a combination of grown-on-site and locally-sourced food. Museflower makes vegetarianism work with Thai-inspired clean cuisine, minus the piles of salt and sugar."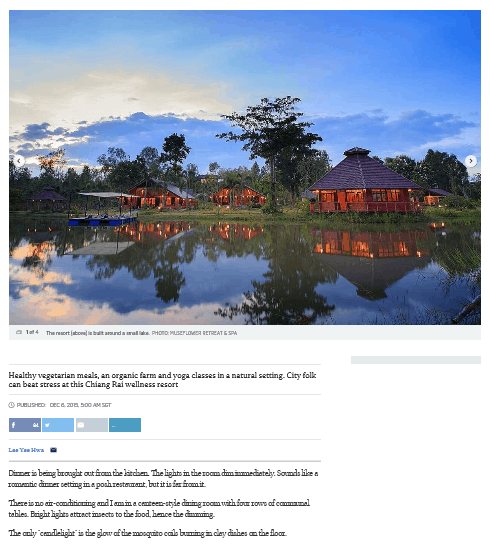 THE STRAITS TIMES SINGAPORE
"Retreat to Nature", December 6, 2015
"The meal is simple, but it is one of the best vegetarian meals I have had. The salad is fresh and crisp; the fried rice is fragrant and with not a hint of greasiness. Even the deep-fried bean curd skin does not leave any traces of oil on my fingers."
"Unique Wellness Resort Opens in Chiang Rai", October 6, 2015
"Museflower Retreat & Spa offers a series of wellness "firsts" in Thailand…such as Thailand's first Himalayan crystal salt pool and northern Thailand's first ozonized outdoor pool, heated by solar power… also the first venue outside Japan to offer Japanese "Hado" counseling sessions, which measure a person's bio-energetic state and the negative vibrations that affect a person's health."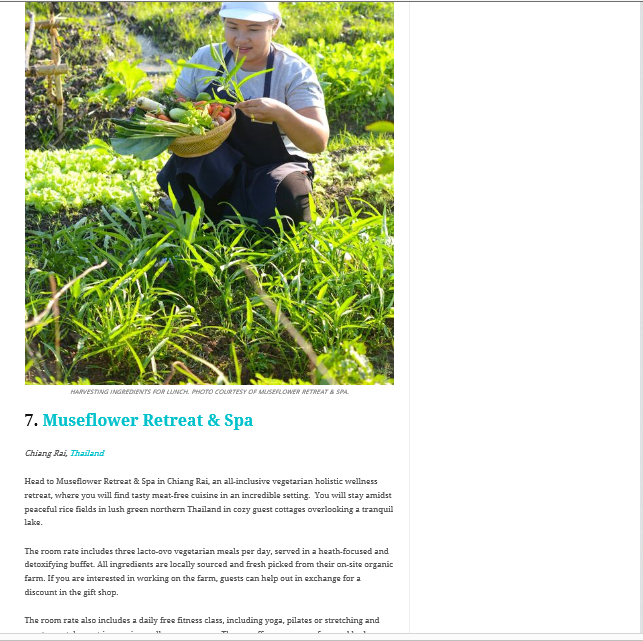 "Best Vegetarian Bed & Breakfasts Around the World", July 21, 2015
"Head to Museflower Retreat & Spa in Chiang Rai, an all-inclusive vegetarian wellness retreat, where you will find meat-free cuisine in an incredible setting. You will stay amidst peaceful rice fields in lush green northern Thailand in cozy guest cottages overlooking a tranquil lake."
For all media inquiries, kindly email our PR & Media Relations Manager, Sophie Banks here