Rooms at Museflower are located in a cluster of cottages set in a garden facing our peaceful lake.
We offer clean, comfortable, and cozy rooms that can hold up to 36 people maximum at a shared basis.
The triple and superior rooms all have a covered terrace where guests can sit outside and enjoy the view.
This Rate Plan Is For You If You Enjoy…
Design your own retreat experience and enjoy more leisure time to yourself
Take more time to explore and sightsee around Chiang Rai
Stay as few as 1 night or as long as you want
All rooms are equipped with wall fans, windows with mosquito screens, a place to store clothes, and a bathroom with hot shower.
We also provide complimentary ozonized drinking water, hot water kettle, herbal tea, shampoo, and shower gel. Electronic amenities include hairdryer, plug-in mosquito repellent, and flashlight.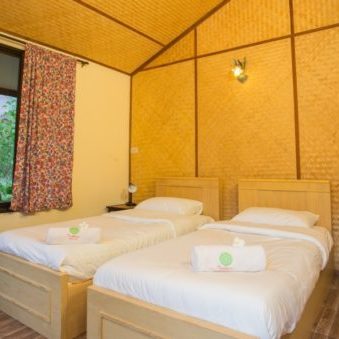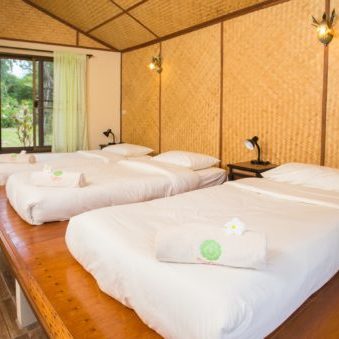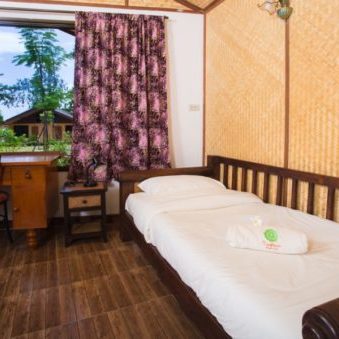 *All rates are quoted in Thai baht per person per night, inclusive of government taxes and are subject to change without prior notice.
Please note that no service charge is applied. If you are happy with our service, kindly leave a gratuity by the reception.
Three delicious lacto/ovo vegetarian set meals per room night (vegan or gluten-free available upon request)
One group wellness class pass per room night (class offerings based on schedule)
One time complimentary access to Museflower Spa's wet facilities
Complimentary wireless internet at public areas
Complimentary access to Himalayan crystal salt water swimming pool
Check out our Extended Stay Rate for a special room and full board only rate for guests staying for 8 nights or more.


Ready to take the plunge?