From Museflower Retreat & Spa, you can easily visit some of Chiang Rai's attractions as well as art, cultural, natural, and adventure spots. Our reception team will be happy to assist with recommending suitable Chiang Rai attractions, booking tours and cars, and making sure everything is organized and complements with your retreat stay.
The estate of renowned Thai national artist Thawan Duchanee consisting of black Lanna style buildings can be visited by appointment and is a fascinating museum of the contemporary artist's extraordinary collections of sculptures and Southeast Asian artifacts.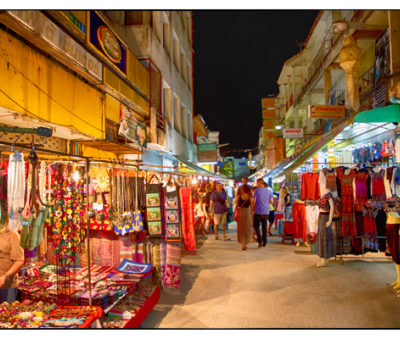 A fun place to shop and browse for endless ethnic handicrafts, handmade gifts, souvenirs, clothes, snacks and foodstuffs, along numerous bars and restaurants, two food courts, and free cultural entertainment every night.
Doi Chaang Mountain & Mae Suai Dam
Doi Chaang coffee, one of Chiang Rai's famous coffee chains, runs its coffee academy, and operates its coffee plantation and factory on the top of the mountain. Every winter, the coffee academy offers barista courses which are filled up very quickly. Macadamia nut farms and small resorts can also be seen along the top of the mountain. Below the mountain is the famous Mae Suai Dam, where local tourists can jetski or hop on banana boats in the reservoir, or dine at the restaurant on top of the dam.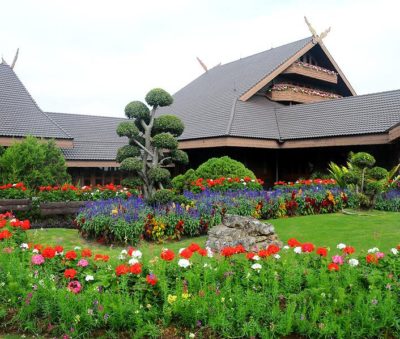 Doi Tung Royal Villa & Flower Garden
A beautiful flower garden and residence built for the Late Princess Mother, Her Royal Highness Princess Srinagarindara (Somdej Ya).
*Entrance fee required
There are many different hill tribe villages around the where visitors can see the Akha, Lisu, Lahu, and famous Karen Long-Neck tribes and learn about their traditional way of life, as well as hill tribe handicrafts centers where you can buy souvenirs such as their exquisite embroidery and textiles.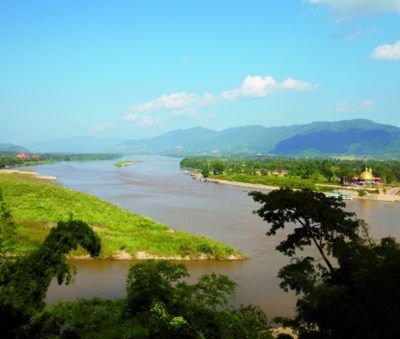 This is the intersection where the three borders of Thailand, Laos and Burma meet, and the area was once famed for its opium production, hence the "Golden Triangle" moniker. Nowadays, it's a junction where you can find local markets selling northern handicrafts, clothing, novelties and souvenirs, as well as river rides up and down the Mekong.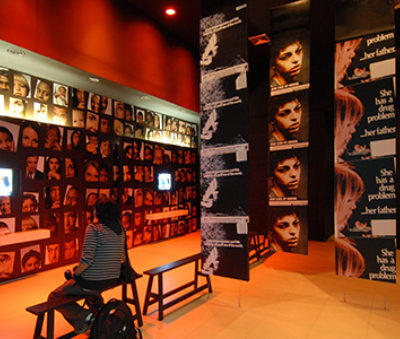 Praised by many as one of the best museums in Thailand, this museum was created by the government to educate people about the history and dangers of opium, as part of the battle to eradicate opium production in the Golden Triangle. The entertaining exhibition traces the history of opium from its roots 5,000 years ago to present day issues of drug abuse.
*Entrance fee required
Mae Fah Luang Art & Cultural Park
Dedicated to the Princess Mother, this gorgeous museum houses the region's largest collection of Lanna and northern art and artifacts. There is a permanent teak wood exhibition, an indigenous botanical collection, and has revolving displays of contemporary and historic art, paintings, photography, sculptures and more.
*Entrance fee required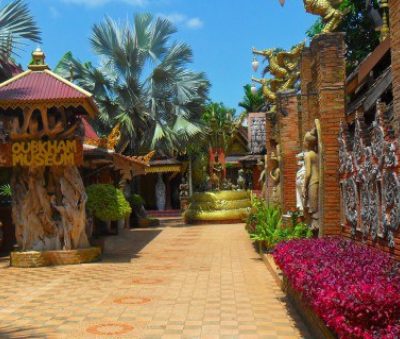 This charming private museum houses the owner's extensive collection of northern style Buddha images and an amazing array of exquisite objects, furniture and clothing used in the royal courts of northern Thailand, and includes beautiful items from Myanmar, China and Vietnam that are 500 – 1,100 years old.
*Entrance fee required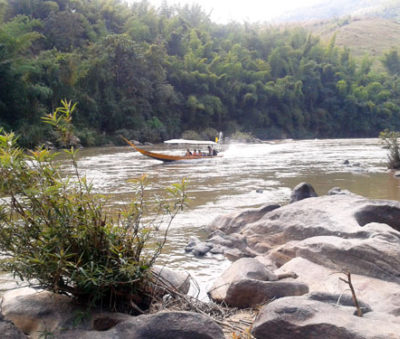 Boat rides along the Kok River are another fun and popular way to see the lush local landscape and visit some hill tribe villages, an elephant camp, or hot spring along the way.
Singha Park / Boon Rawd Farm
This is an agro-tourism attraction owned by Thailand's biggest beer producer. Besides a popular shuttle tour around the farm, the park also offers a restaurant nested on the top of a small hill, a cafe and gift shop by the entrance, and a wide lawn area for taking photos.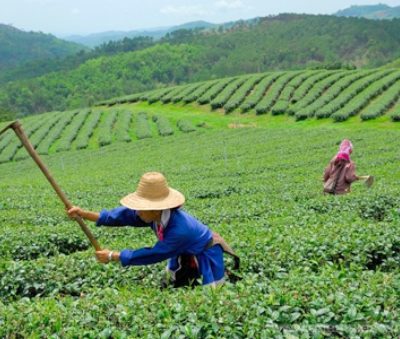 Tea Plantations at Doi Mae Salong
Chiang Rai's cool hills are perfect for tea cultivation. There are lovely tea plantations where you can sample freshly brewed tea, enjoy the beautiful terraced landscape and buy some local tea to take home.
Tham Luang Cave at Khunnam Nangnon National Park
Made famous by the rescue of 13 students who were stuck inside the cave back in July 2018, the cave entrance is now open for visitors, as well as exhibition halls to showcase the cave rescue mission that took place for 17 days.
Wat Rong Khun (the White Temple)
One of the most spectacular temples in Thailand, this entirely white contemporary temple designed by national artist Chalemchai Kositpipat is an extravagant, fantasy vision of the artists' vision of Buddhist heaven, hell and nirvana. The majestic golden building that houses the public restrooms is just as beautiful as the rest of the temple, and there is a little market selling souvenirs and coffee next door.
*Entrance fee required
This beautiful temple is famed for housing the sacred Emerald Buddha in the 14th century and now houses a replica of the original that is now enshrined in the Grand Palace in Bangkok. The temple's lovely grounds includes an excellent museum of beautiful Buddhist artifacts.
This gorgeous 15th century temple houses a replica of the famed Phra Sing Buddha image that is now enshrined in Chiangmai. This temple's stunning northern Lanna style architecture and interiors are a delightful to see, as well as some fascinating Buddha images under sacred Bodhi trees on the temple grounds.
Come visit the busy walking streets for the locals on Saturdays and Sundays; sample local food snacks; and see what the locals do and buy. And of course you can buy something, too.
Sightseeing Arrangements
Museflower can arrange excursions with local tour operators for our guests. We are happy to announce that we are partnering with PDA (Population and Development Association) Tour, a social enterprise whose profits are donated to support community development for local and hill tribe communities. When you take a cultural excursion with PDA, you are helping give back to the local community.


Ready to take the plunge?