Inspired by traditional "Champissage" from India, this treatment combines both gentle and stimulating massage on the upper back, shoulders, neck and scalp to improve blood flow and relieve stress. Coconut oil is used to nourish the hair and scalp. 90-minute includes a stimulating acupressure hand massage, to help release tension in the arms and hands from using computers and tech devices.
Melt away your stress and worries with this relaxing hot stone massage, where the therapist uses warm stones and oil massage to relax your body to ease muscle tension.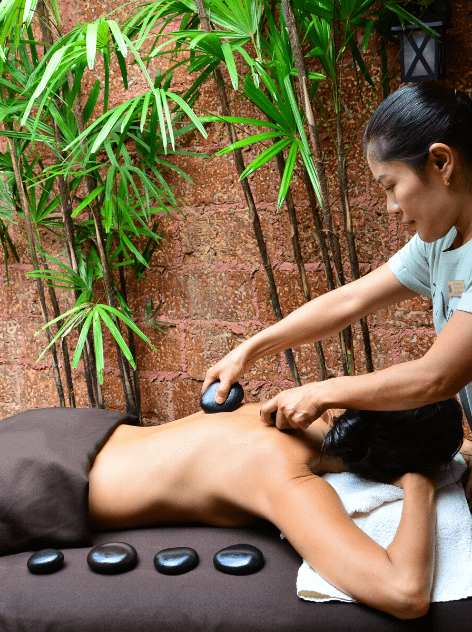 A detoxifying, deep tissue, aroma oil massage using natural bamboo sticks to release tension on muscles and to improve blood circulation. Ideal for guests looking to release knots in the muscles.
– Medium to strong pressure –
Cupping is an ancient healing therapy used for centuries in Egypt and China to stimulate and activate the body's own natural self-healing power. Glass cups are heated with flame and immediately placed on the back. The warm air inside the heated cups creates suction on the muscles. This allows blood vessels to expand and redden. In Traditional Chinese medicine, cupping therapy is believed to help relieve muscle tension, improve blood circulation and help with respiratory symptoms. Our therapist starts with a warming aromatic oil back massage to release any tension and relax the body, then applies the cups on your back for about ten to fifteen minutes along the energy meridian lines to help draw out toxins and stimulate a free flow of energy within your body.
*Note: It is normal to have red to purple marks on the back after a cupping massage. The darker the mark is, the more toxins it has released from the body.
– Medium pressure –
Museflower
Spa Welcome Special
For every a la carte spa treatment booking over 60 minutes:
(Body scrub, Signature Massage and Traditional Therapies),
Before Your Treatment
: Enjoy a complimentary access to our Spa's Wet Facilities such as Herbal Steam and Mineral Bath
After your Treatment
: Enjoy a FREE cup of warm Artisanal Organic Tea


Ready to take the plunge?