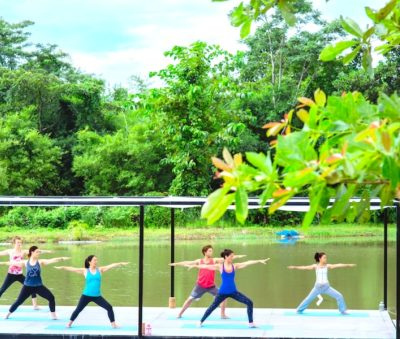 Museflower Yoga Retreat Chiang Rai Introduction
– Available All Year Round –
Are you feeling stressed, exhausted, and burnt out from your daily life?
A little yoga escape in Chiang Rai's green hills can do wonders to unwind your body and mind! Reboot your energy with twice daily Hatha yoga classes, daily organic vegetarian buffet picked fresh from the on-site farm, muscle soothing spa treatments, and rejuvenating swims in our Himalayan crystal salt pool. Catch up on restful sleep in our cozy cottages overlooking a lake and peaceful gardens. With our special short and long stay packages, you can stay as long as you like!
The perfect place to nurture your wellness, Museflower is an idyllic spot to unwind and nurture your nature.
Suitable for beginners and all levels are welcome!
This Retreat Is For You If You Enjoy…

Release tension and build strength and flexibility with daily Hatha yoga

Connect with your inner self with meditation

Experience deep and long-lasting changes via holistic wellness treatments
Feel lighter with our lacto/ovo vegetarian food, therapeutic herbal steam and mineral bath
Harmonize your body, mind, and spirit in a natural retreat and green setting
Be connected to nature with clean air and organic food
Inclusions of Museflower Yoga Retreat Chiang Rai Package 2023 – 2024
3 /5 /7nights of accommodation with 3 lacto-ovo vegetarian meals per room night
Two Hatha yoga classes daily
Meditation classes as listed below
Additional Spa Treatment and Holistic Therapy sessions as listed below
Group vibration healing wellness workshop 90 mins
Roundtrip airport or bus terminal pickup in Chiang Rai
Complimentary spa gift from The Museflower Boutique
Complimentary unlimited access to Museflower Spa's wet facilities (herbal steam + mineral bath)
Museflower Yoga Retreat Chiang Rai Session Inclusions
6 x Hatha Yoga Class 60 mins
2 x Meditation class 30 mins
1 x Private Wellness Session 60 mins
(Choice of any 60-minute session with resident practitioner)
1 x Vibration Healing Wellness Class 90 mins
1 x Signature Massage 60 mins
10 x Hatha Yoga Class 60 mins
4 x Meditation class 30 mins
2 x Private Wellness Session 60 mins
(Choice of any 60-minute session with resident practitioner)
1 x Vibration Healing Wellness Class 90 mins
1 x Signature Massage 60 mins
14 x Hatha Yoga Class 60 mins
6 x Meditation class 30 mins
3 x Private Wellness Session 60 mins
(Choice of any 60-minute session with resident practitioner)
2 x Vibration Healing Wellness Classes 90 mins
2 x Signature Massage 60 mins
1 x Body Scrub 60 mins
6 x Hatha Yoga Class 60 mins
2 x Meditation class 30 mins
1 x Private Wellness Session 60 mins
(Choice of any 60-minute session with resident practitioner))
1 x Vibration Healing Wellness Workshop 90 mins
1 x Signature Massage 60 mins
10 x Hatha Yoga Class 60 mins
4 x Meditation class 30 mins
2 x Private Wellness Session 60 mins
(Choice of any 60-minute session with resident practitioner)
1 x Vibration Healing Wellness Workshop 90 mins
1 x Signature Massage 90 mins
14 x Hatha Yoga Class 60 mins
6 x Meditation class 30 mins
3 x Private Wellness Session 60 mins
(Choice of any 60-minute session with resident practitioner)
2 x Vibration Healing Wellness Workshops 90 mins
2 x Signature Massage 90 mins
For Private Wellness Session 60 mins: you may choose any holistic session with our resident practitioner (Watchararat, Tania).
Please inform or consult with our Reception at the beginning of your stay, so we can schedule your private session accordingly.
All holistic sessions are subject to the practitioner's availability.
Watchararat Srichamroen (A)
Heart-Based Meditation Teacher & Intuitive Soul Guide, Museflower Retreat & Spa Owner
Suggested Retreat Itinerary for Museflower Yoga Retreat Chiang Rai Package
Please note that actual times of activities may change depending on instructor and spa availability. You will receive your itinerary upon arrival.
Daily itinerary can be customized based on your needs. Get in touch here and we can discuss the best daily routine for you.
Please make sure to arrive latest before 3pm for the first yoga class.
Book your retreat package
Contact us for a customized retreat package price, just let us know the number of nights and your requirements.
A minimum of 3 nights are required for customized packages.
10% discount at The Museflower Boutique (except consignment products, drinks and snacks)
15% discount for additional spa treatment, holistic therapies by resident practitioners, and private or group wellness activities from spa menu (exclude workshops, and bicycle rentals)
10% discount for additional room night from regular room rate
Cycling around our natural surroundings and visit our big lake
Private or group wellness activities and classes such as massage workshop, cooking demonstration
Holistic healing sessions with resident or visiting practitioners
Sightseeing excursions to the famous Chiang Rai attractions, such as the White Temple or tour the Night Bazaar
Nature trekking tours exploring hill tribe area in Chiang Rai
Golf excursions in nearby golf resorts
Explore Chiang Rai town's night bazaar, cafes and restaurants
Car transport to Chiang Mai
The Soul Retreat Program allowed me to safely step out of my comfort zone and be totally vulnerable. I learnt so many new tools to add to my personal development toolbox. Many of which I may never have even tried unless I enrolled in this program. Tania allowed me to feel safe and dive within myself to find joy at a whole new level. My soul will forever be grateful for the energy Tania and I shared.

I cannot thank you enough for the Soul Retreat Programme. It was like having a long cool drink in a desert. A much-needed pause. Learning new skills including chanting, meeting my spirit guide on a shamanic journey, morning pages and the fire release ceremony. Museflower worked its magic. I leave a different person. More centered, de-stressed, with (hopefully) a much higher vibration.

The Soul Retreat Program with Tania is a wonderful opportunity to get in touch with your spirituality. At your own pace, you will discover parts of yourself that you didn't know you had and it is truly an awakening.

The Soul Retreat Program is a powerful experience for anyone on a spiritual path who is looking to learn new horizons and ways to establish beautiful connections with their spiritual support team and their own.

One word I would use to describe this retreat program and Museflower in general is nourishment. I felt welcomed and taken care of night from the moment I stepped onto the property. Sessions with Tania were also nourishing. There was a good balance between learning or being given information, supportive space to share and understand and opportunities to integrate and apply. I would definitely recommend coming to a retreat at Museflower, especially if you would like to feel nurtured and leave with a sense of being filled up and nourished.

I have never participated in a retreat before and I am so glad I did! My stay here exceeded all expectations and my only regret is not staying longer!

This is the perfect escape from the city to get REAL peace and quiet and get proper rest and sleep. The staff always remember me when I come back – it feels like a second home.

Challenging yet rewarding. It was difficult at times to focus on my journey. But the retreat has been a TRANSFORMATIVE JOURNEY.

Museflower Retreat is a beautiful and humble hideaway with so much to offer. We had the most relaxing and special time here. Everything at Museflower reminds us how kind and generous Nature has been.

Having completed the Soul Retreat program, I do not only feel more relaxed, but have learned to be truly grateful for everything in my life – big and small. I am more appreciative of nature, kinder towards myself and towards others, feel significantly more grounded and more in control of my own thoughts and emotions. The Soul Retreat Program has helped me to focus less on past experiences and to feel more optimistic and upbeat about the future. I can't wait to put all of the daily techniques I have learnt into practice, and to reap the benefits of living more in the present moment. Thank you.

This was such a nourishing and healing week that flew by – every aspect truly was above and beyond! From the staff to the yoga to the spa, the natural setting, and the food. All so incredible – simplicity at its best. I found the peace and harmony that I had been craving. This exceeded all my previous (and much more expensive!) hotel/spa experiences. Thank you so much.

Museflower Angels! I came here to relax, rejuvenate and fell happy again. Daily yoga and meditations sessions, not to mention being pampered in the spa has really lifted my spirits. Nothing is too much trouble and the staff are superb. Such a special place. Thank you so much! Namaste.

Found my inner 'goddess' here!

My stay at the Museflower retreat has been an amazing experience. I have learnt so much from the yoga practitioners whilst the spa treatment have allowed me to relax & reset my mind and body. I can't wait to share positive energy I have gained from this wonderful place & its staff with memorial with love & gratitude.

The environment is conducive to relaxation. The food is healthy. The staff is helpful and professional.

Great yoga retreat. Excellent instructor. The retreat facilities are nice, quiet ad very natural. The food was terrific. Thanks to the whole staff!

"We are very grateful to you for your very comfortable retreat center, with the atmosphere of noble silence. But most importantly, we really appreciate your care and concern for all staff of the center. All requests were met quickly and with a smile. I liked everything. Swimming pool, spa, restaurant, rooms, grounds and all-everything that is done with such care, thought and love.

It was a wonderful retreat. We hope to return soon."

~ Mihail & Olesia

Come Back Different

For Museflower team with love. I just want say thank you. To both my teachers that gave me so much energy and strength, helped me accept myself, to love myself and believe in myself. It's been amazing week for me! I want to also thank the reception staff, the kitchen staff and housekeeping staff for being so nice and kind, you have made my vacation no less perfect!

Great Ambience. Lovely Team. Really a retreat feeling experience, to relax and reconnect with nature, and a great variety of spa treatments.

'Simple is Bliss, Bliss is Simple' Museflower's motto and they live up to it! The place is organic, rustic and beautiful, not overly contrived and built up. Great place to simplify life, if only for a few days. Their real stars are their team of staff, who look happy, cheerful, and give off good vibes as they go about their duties. Great for quiet, peace, reconnecting with nature and one's own soul. Highly recommended, rare find in a world of overly-commercial chain retreats.

Spoiler alert: the sessions turned out to be surprisingly stimulating. Yes, there were moments when I was required to mute my inner cynic, but the bottom line was an unprecedented reaffirmation of my own methods.

Payal Dhar, Business Standard India

"My studio's Yoga & Mindfulness Retreat this year was hosted in Museflower Retreat & Spa. In spite of May being a hot and dry month, we all enjoyed ourselves and found our zen moments. As there were 28 of us, we booked up the whole resort, including exclusive use of Museflower's spa. We especially loved the Meditation Pavilion, where we had our sunrise yoga practice, and evening Pranayama and Meditation sessions. The resort was quiet and offered a relaxing energy, for personal physical pursuits in yoga asana as well as space for spiritual growth and exploration. The staff were very efficient, knowledgeable and communicated well in English. We loved their organic farm, and the farm-to-plate ovo-lacto vegetarian meals were delicious! It was great to see that the resort was self-sustainable. Dada, the chef at Soul Food Corner, even entertained our request for a 'live Pad Thai' cooking session, where she masterfully worked 3 fry-pans. The massages and treatments at the Spa were high quality. The staff were well-trained and all our students went back for more sessions. Everything ran like clockwork, including the airport transfers and temple and night market pick-ups. We thoroughly enjoyed our time at Museflower, and I highly recommend this space for a retreat or if you'd like some time to get away from the madding crowd.

A big thank you to Tania, and the Museflower team. Namaste from all us at Prana Yoga KL."

"I'm absolutely grateful to share my experience with Museflower as per our stay last week for our yoga retreat, in fact, it was my first led yoga retreat since I became a full time yoga teacher myself.

Your kind hospitality made everyone of us very special there. From airport pick up, to checking in, to our first dinner and to showing us to our room, we felt your warmth and patient. The yoga practice pavilion was nice and clean, and the setting was very thoughtful with props, drinking water, and audio system were perfectly well suited our practices there. Love the serenity, quietness and the nature in Museflower. Some of my students enjoyed much with the mandala drawing and coloring, the sea salt water swimming was definitely a treat to my students after the morning yoga practice. Oh, can never neglect the spa and the service, it was soothing, comforting and relaxing, yes we were well pampered.

Of course without your enthusiastic assistance in helping me to arrange this retreat, none of this can happen. We were poised in both mental and physical state in Musefower. Last but not least, our BIG thanks to your helpful, friendly staff. You have a GREAT team there, Tania."

A usually solo traveller, group interaction was a highlight. The blend of meditation and writing works well easing us into creative mode before applying practical techniques, in a safe space where we felt confident sharing our innermost selves on the page.

Stephanie Shiu, Asiaspa Magazine

It's been a wonderful, peaceful stay, so tranquil. I would like to repeat my experience and come back.


Ready to take the plunge?