In today's blog I want to share with you our most popular half-day sightseeing trip route that our guests like to take when they are staying here at Museflower.
Usually our retreat guests love to stay in and enjoy their quiet time at Museflower since their intention coming here is to relax, recharge, and to reconnect with themselves.
But a lot of our retreat guests are also first-time visitors at Chiang Rai, and they would love to take this chance to explore and see the city a bit.
Since our retreat guests' itineraries are all planned out already prior to their arrival, we usually suggest our guests to arrange for a half-day sightseeing trip between 10am to 3pm so they won't miss the morning and afternoon wellness classes. The exception is for our regular room rate guests who do not have a fixed schedule.
Best Time to Go Out:
The best time to go out for sightseeing is after the morning wellness classes and breakfast (leaving around 9am or 10am) and come back before our afternoon wellness classes (3pm for yoga class and 4pm for other wellness class). You can also skip the afternoon wellness class and opt for a spa treatment instead (foot massage anyone?) to unwind and pamper yourself after all the walking.
Transportation Options:
A half-day sightseeing trip takes about four to five hours, and the easiest way to go on a sightseeing trip is by booking a car and driver through Museflower. Other options are renting a car and driving yourself, joining a group tour through PDA or other tour agencies, or hiring a tour guide to go with you along with a car and driver.
Lunch Options:
You can also take this opportunity to enjoy lunch outside, or opt for a takeaway lunch box prepared by our kitchen team with no additional cost. This may be an easier option for our vegan guests, or guests with special dietary requirement, as there aren't a lot of vegan options in Chiang Rai at the moment.
Cost:
The cost of the half-day sightseeing trip depends on the number of places you will visit and the locations of these places. Currently in 2021, renting a car and driver through Museflower for a half-day sightseeing trip costs about 1,700THB. Please make sure to check the price with our Reception again during your stay.
Itinerary:
Here is the most popular half-day sightseeing route that I personally like to suggest to our guests:
If you want to come back for our 3pm yoga class, it's better to depart from Museflower at 9am in the morning. However you may not want to have lunch at Singha Park as it's too early. Alternatively, you can drop by to see the Blue Temple (Wat Rong Suea Ten) and have a quick bite at the most popular café in Chiang Rai called Chivit Thammada Café (they have the best cake there). Then head off to Black House Museum and come back by 3pm for the afternoon yoga class.
There is a difference between traveling as a pilgrim and as a tourist. Conscious traveling is all about bringing mindfulness into our everyday life moment such as traveling.
Instead of rushing to each location to snap hundreds of photos and never getting to enjoy the place fully, take your time to feel the energy and vibrations of each place. It's definitely more difficult to do this when the place is crowded, so try to see if you can find a spot with fewer people, and close your eyes (if you feel like it) to connect with yourself and the land.
Sometimes, it's not practical to close your eyes and be still. Instead of placing all the focus on the phone to capture memories, or letting your mind wander or thinking of where you are going next, bring your mind back to the present moment. Put away your phone just for a little while, and allow all your senses to savor the present.
Always follow your intuition and gut feeling when you are traveling. Bring an intention to your travels, whether it is about connecting to the land you are in through its architecture, art, food or people, or just having a good time.
White Temple (Wat Rong Khun)
One of the most spectacular temples in Thailand, this entirely white contemporary temple is designed by national artist Chalermchai Kositpipat. It is an extravagant, fantasy vision of his vision of what Buddhist heaven, hell and nirvana look like.
Chalermchai started building the temple in 1997 and till present date, the entire temple complex is still a work-in-progress and is not expected to complete until 2070.
What's special to note here is Chalermchai's interpretation of how hell and heaven look like. When you start out at the base of the temple, you will see demon heads and twisted hands symbolizing hell. As you "ascend" to heaven, you will pass through the gates to heaven, and then you will reach the main temple building. The mural paintings inside the temple are definitely interesting to take a look, as Chalermchai uses cartoon characters as well as famous superheroes and villains to illustrate a point. The meaning behind his mural paintings is completely subjective to the eye of the beholder, after all this is art.
Besides the temple, there is also an art gallery displaying Chalermchai's other art pieces, small coffee shops, souvenir shops and an ATM all around the complex. I recommend taking about 30-45 minutes to enjoy the sights here
Please note that there is an entrance fee of 50 THB for non-Thai nationals, and make sure to dress appropriately like covering your shoulders, knees and chest, when you visit a temple in Thailand. 
Opening hours: 8.00 – 5.00pm Monday to Friday, 8.00 – 5.30pm Saturday to Sunday
Entrance fee: 50THB for non-Thai nationals, free for Thai nationals
*opening times may differ during COVID-19
Find more info here: https://www.thaizer.com/tourist-attractions/white-temple-chiang-rai-wat-rong-khun/
Singha Park (Rai Boon Rawd)
Singha Park is an agro-tourism attraction owned by Thailand's biggest beer producer, Singha. Besides a popular shuttle tour around the farm which is great for kids, the park also offers a Thai and Western food restaurant nested on the top of a small hill (called Bhu Bhirom Restaurant), a pizzeria, a few cafes, a gift shop by the entrance, and a wide lawn area for taking photos.
Singha Park also offers bicycle and scooter rental, and a flying zipline for those who feel more adventurous. But due to the time constraints of a half-day sightseeing trip, I'd say just take this time to enjoy lunch and the view of the oolong tea plantations. You can also sneak in some souvenir shopping if you like.
If you choose to have lunch at Bhu Bhirom Restaurant, I highly recommend trying out their fried tea leaves or tea leaves salad which is made by their oolong tea leaves.
Opening hours for Park: 8.00am – 6.00pm
Opening hours for Bhu Bhirom Restaurant: 11.00am – 10.00pm
Entrance fee: free to enter the park, other activities at additional costs
*opening times may differ during COVID-19
Find more info here:
Black House Museum (Baan Dam)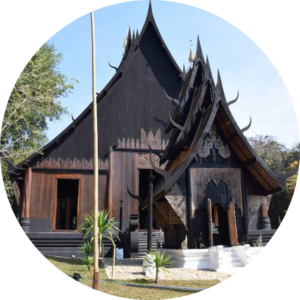 The Black House museum is built by renowned Thai national artist Thawan Duchanee who passed away in 2014.  He had spent more than 50 years building this entire complex, which consists of 40 small black houses made of wood, glass, concrete, bricks, and terracotta in various unique styles covering 100 rai of land (about 160,000 square meter).
These small houses hold Thawan's collections of artwork, including sculptures, paintings, animal bones and skins, horns, and many other unique items from around the world.
There are also some small shops and an ATM around the area, and if you feel overwhelmed by the heat you can definitely find some ice cream shops outside the complex.
The Black House Museum is definitely not for everyone's liking but I'd say it's still worth a visit, especially if you are someone who appreciates art. I'd recommend about 30 to 45 minutes stay at the Black House Museum. Please note that there is an entrance fee of 80THB required per person for all nationalities.
Opening hours: 9am – 5pm daily
Entrance fee: 80THB per person
*opening times may differ during COVID-19
Find more info here: https://www.thaizer.com/tourist-attractions/baan-dam-black-house-chiang-rai/
Summary Table: All You Need to Know
Download Our Infographic for Chiang Rai Half-Day Sightseeing Itinerary