*Disclosure: This blog post includes affiliate links. Please note that I only recommend books, products, courses, and services that resonate with me and all opinions expressed are my own. The affiliate link below means that I will earn a small commission if you decide to make a purchase at no cost to you. 
"When you are tired, you are not yourself.
Well, at least not the best version of yourself."
~ Shawn Stevenson, author of "Sleep Smarter" (
@shawnmodel
)
As this lunar cycle's theme is all about REST (read more about this theme from my lunar cycle "Rest" card reading
here
), in today's blog I want to share with you my top 3 tips to rest better and to switch off your mind.
1. Create your own bedtime ritual to wind down your mind
Since I've become a mom, getting quality rest is more important than ever.
It has not been possible to sleep for 8 hours straight ever since I was pregnant (and still an ongoing journey today). That's when I came across Shawn Stevenson's book called "Sleep Smarter". In his book, he offers useful strategies and advices on how we can sleep our way to better health, even if we don't get to sleep for 8 hours straight.
And as a mom I've learned that babies need to have a bedtime routine in order to teach them to sleep. In fact, I feel that adults also need a wind down ritual in order to sleep better.
For example, if I jump straight to bed after watching TV, my mind will keep on thinking of whatever I was watching and it will take me longer to fall asleep. On the other hand, it is easier for me to fall asleep if I read a book or write in my journal before bedtime.
Shawn Stevenson suggests in his book that we should turn off all devices at least 60 minutes, if not 90 minutes prior to bedtime. Besides the blue light given off from the devices will throw off our body's biological clock and disrupt our sleep pattern, the content of what we watch may excite our mind too much and so it's harder to fall asleep.
Everyone is different into what works as a wind down ritual. If you don't have a wind down ritual yet, consider a baby's bedtime routine (even if you don't have one, I invite you to engage your imagination).
With my 2-year-old son, we start with a bath, and then dinner (or sometimes the other way around), sing some songs, read stories together, switch off the light and say good night. Every night we stick to the same routine as much as possible.
You wouldn't feed tea, coffee or alcohol to a baby in order to fall asleep (I seriously hope not), or show them cartoons on TV or the phone right before they sleep (lucky if you can ever get them to stop without a tantrum).
My point is, start simple. Treat yourself as a royal baby, and stick to the same routine every night. Start with putting away your devices (or better yet, switch them off) 15 minutes before bedtime and gradually increase the duration. Avoid watching or reading anything that is too exciting for your mind. Avoid caffeine and alcohol in the evening (even hot chocolate). You've got this!
2. Digital detox for a day (or more)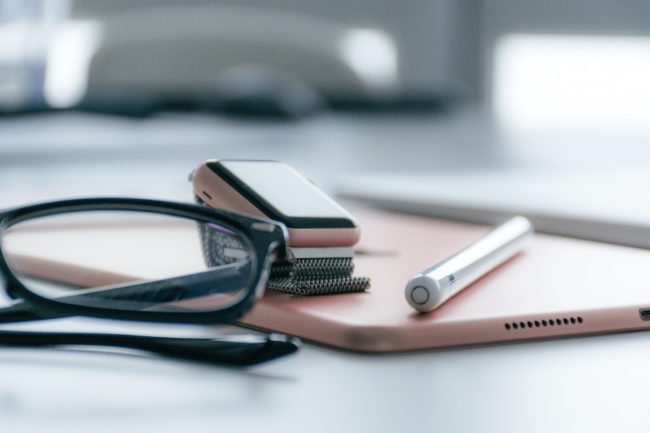 Consider a digital detox to help you turn off distractions (and notifications) from the outer world.
Digital detox can come in different extent. You can go completely off the grid (no email, no social media, no texting, no TV), or you can start with just taking a break from engaging in social media.
Last April when our office at Museflower was closed, I took this opportunity to try a social media detox for 10 days. I couldn't go completely off grid as I still had to check and reply emails.
I placed the social media apps in a folder on my phone and named it "digital detox". It served as a reminder for a mindful pause. Did I really want to check something out, or was I just using social media out of habit?
So what happened? First I became aware of the times when I wanted to open Facebook. I realized that it was just a habit to kill time when I was feeling bored.
When I stopped falling into the social media black hole, I had more free time again. And I could consciously choose how to spend this time to be more engaged in the present moment.
During a digital detox, as our attention is not held hostage by social media anymore, you will find that you get additional free time to do whatever you want.
Besides being able to sleep better at night, you will find more time to do what nourishes you.
3. Immerse in deep relaxation with holistic therapies and/or a retreat holiday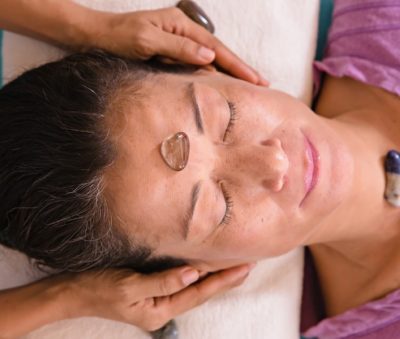 I love a great massage, that's why I was attracted to the spa industry at the first place. But I'll be the first to admit that getting a body massage does not mean the mind can relax completely.
What I've found is that some holistic therapies can bring me much deeper into a relaxation state than just a massage. My mind feels like it can completely switch off but it's not because I'm asleep.
Craniosacral therapy is one such therapy. It is gentle hands-on technique that uses light touch around the head, neck, back and pelvis to allow the spinal fluid flow properly. There are many physical benefits with craniosacral therapy, such as relieving migraines, neck pains, and trauma recovery. In my own experience, I've always felt a deep sense of relaxation and connection with the stillness and peace inside my body.
Reiki is also another gentle treatment to allow the mind switch off completely. Reiki is a type of energy healing that channels the energy of the Universe to heal any blockages we hold in our energetic and physical bodies.
Though everyone's experience will be different, in my own experience I've always felt nourished and washed over by a profound sense of peace. Sometimes I did feel like I fell asleep, but when the session was over I felt like I had the best sleep ever.
There are also other types of energy healing that you can explore, if Reiki is not available in your local area. I always like to recommend Reiki to those who have never experienced energy healing before. In Reiki you can completely relax and lie down fully-clothed to receive the energy. In other forms of energy healing, sometimes your active participation is required, obviously it would depend what your intention is with the healing session. If you want to experience energy healing combined with deep relaxation, I'd highly recommend trying out Reiki.
You can even take it one step further and immerse in a solo retreat. I'd recommend a minimum of 4 days 3 nights for any types of retreats, whether if it's a yoga, spa, meditation, self-discovery, or healing retreats. What I've found personally and also for my guests at Museflower is that it takes about 3 days to completely unwind from the stresses of our daily lives and to adapt to the rhythm of the retreat surrounding. By the third day, we can feel more connected to ourselves again.
Check out if there are any local retreat centers near where you live. If not, you can also explore a restful holiday option in a nearby resort, hotel, homestay, or bed and breakfast. Instead of planning a full day of activities, carve out time to do nothing and just be in the present moment (bonus to add on a digital detox).
Can't leave your family behind? Bring them with you on a restful holiday, and make sure to carve out some self-care solo time for yourself.
Here at Museflower Retreat & Spa, we offer yoga, meditation and soul retreats as well as spa getaways in the countryside of Chiang Rai, northern Thailand. Watchararat (A), our resident practitioner, offers Reiki with crystal balancing, and a combination of Reiki energy healing with massage (best of both worlds) where she calls "Touch of Lovelight Energy Massage".
If you do live in Thailand, I invite you to consider a solo retreat at Museflower Retreat & Spa. We are now offering our "Double Happiness Sale" where you can enjoy 20% off from our retreat packages, plus 210THB credit per night which you can use towards any holistic therapies with our practitioners.
Wherever you decide to go (or stay), I wish you a restorative and restful cycle where you feel recharged and refreshed.