*Disclosure: This blog post includes affiliate links. Please note that I only recommend books, products, courses, and services that resonate with me and all opinions expressed are my own. The affiliate link below means that I will earn a small commission if you decide to make a purchase at no cost to you. 
"The labyrinth is a larger-than-life metaphor of the spiritual journey. It calls you to trust the path and to experience directly what is happening."
~ Lauren Artress, founder of Veriditas and author
I first learned about the labyrinth during our Museflower Life Festival in 2019. My friend Susanna Eduini told me that it would be a great idea to build a labyrinth at Museflower and to offer labyrinth walks here.
My first response, as a typical business owner, was how much that would cost me. I cringed at any additional investment required at a time when business was slow.
Little did I know, a seed was planted.
The same afternoon, K. A, our resident practitioner, mentioned the labyrinth to me again. No, she did not hear my conversation with Susanna. K. A had used masking tape to create a temporary labyrinth in our Meditation Pavilion before. We can still see the remains of that labyrinth left by tape marks on the wooden floor. K. A wanted to ask me if she could build another temporary labyrinth again.
This was the second time someone mentioned the labyrinth to me on the same day. Something was up, I thought. Maybe the Universe was trying to tell me something.
A week later during our Museflower Soul Bliss Writing Retreat which I co-facilitated with my friend Sarah Walton, we were on a taxi together with another friend and somehow they talked about the labyrinth, again. They suggested that it would be so awesome to have a labyrinth in Museflower.
My ears perked up. No way. Three times a row within two weeks? Something was definitely up.
"Okay, Universe, I'm listening," I thought. I got the message. But how? I knew nothing about labyrinths, let alone building one. I had done a labyrinth walk once with K. A before but I didn't understand much at that time.
"Universe, if you want me to build a labyrinth at Museflower, please help me." I said out loud after my meditation one morning.
I contacted Susanna and asked for her help. We were discussing the programme for our first Winter Magic Week and Susanna offered to build the labyrinth while she was at Museflower. She also assured me that the investment would not be high. She showed me different types of labyrinth we could build and the idea was brewing in my mind.
I knew I had to walk around the land to find the right spot for the labyrinth. Perhaps the concrete area behind the pool where our pool deck used to be? I called in the help of my spiritual support team, as well as the helping spirits of the land.
"Please show me, Universe. Please show me where to build a labyrinth," I silently prayed.
I followed my footsteps. And I landed at the bamboo forest on the other side of our lake across our restaurant Soul Food Corner. There was an empty area in midst of the bamboo forest, and there were bamboos facing to each direction – East, South, West and North. From each bamboo bunch to another, the distance was pretty much the same: 7 meters wide.
At that moment I knew this was the perfect spot. We didn't need to cut down any trees. All we needed to do was to clear the land in the middle which would then form a perfect circle with the bamboo trees.
Once I received the initial instructions from Susanna, I asked for my husband's help. My husband is the one who knows how to bring my construction ideas and manifest them into reality. He understood what we wanted, and quickly organized different people to get it going: our gardeners to clear the land, his artist friend to make cement rocks.
After two weeks, everything was ready. The cement rocks were ready to be laid and Susanna arrived at Museflower for our first Winter Magic Week programme. On Winter Solstice day in 2019, Susanna, our team, the workers and I laid the cement rocks for the labyrinth in the morning. Everything fitted perfectly in the center of the bamboo forest. The same afternoon Susanna opened the labyrinth with a ceremony and invited our guests and staff for a walk.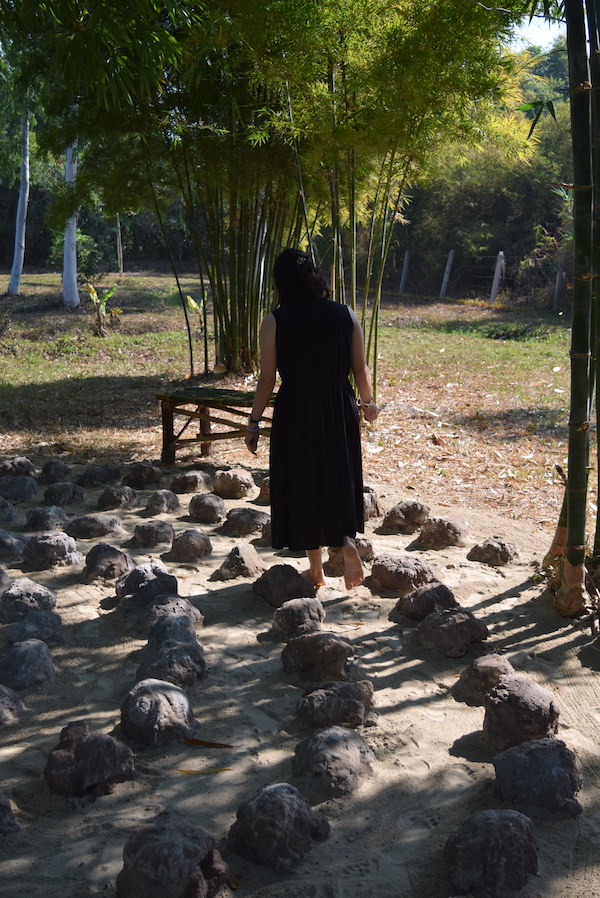 The labyrinth was manifested with the help of everyone. The investment was relatively low, and for my part, it was really effortless. Thank you, Universe. When it was meant to happen, the Universe really had my back. I couldn't believe how quickly everything manifested.
After we laid the stones for the labyrinth, Susanna invited me to take a walk. My first real walk inside the labyrinth. As I entered, it felt like I was entering into a different dimension, and it was slightly confusing at first. I needed to focus and concentrate to make sure I wasn't lost, even though one could not really get lost in a labyrinth where there was only one path in and one path out.
Susanna shared with me an organization that inspired her and taught her about labyrinth: Veriditas and its founder Lauren Artress. I was excited to learn that Veriditas offered labyrinth facilitator trainings and pilgrimages to Chartres Cathedral in France where a medieval and transformational labyrinth laid.  We planned to travel to Chartres together with my family and to join the pilgrimage and facilitator training there in August 2019.
Meanwhile, I read Lauren Artress's book called Walking a Sacred Path: Rediscovering the Labyrinth as a Spiritual Practice  and I basically nodded my head the whole time as I read the book. I deeply resonated with what she wrote. I knew I wanted to learn more about labyrinths.
Then COVID-19 happened and all traveling plans halted. During all the uncertainties when Museflower was closed for a few months, I visited the labyrinth regularly. I was so grateful that I had a labyrinth in my "backyard", so to say.
During lockdown, I would walk in the labyrinth with my son or by myself sometimes. Even when Museflower was reopened in June 2019, whenever I felt uninspired, or I needed a change of scenery, I would hop over to the labyrinth.
The labyrinth gave me solace and peace. Sometimes I might receive answers and insights. Sometimes it was just pure relaxation. Sometimes tears and emotions arose and I could let them go. Sometimes amazing sacred moments happened when I could catch a glimpse of the Divine.
I could never forget that one time as I was walking in the labyrinth, I felt exhausted, tired and anxious. The uncertainty of the business and financial concerns had hit me hard. Even though we had no guests, I was still working every day and I felt burnt out.
As I was walking into the labyrinth, I let go of all expectations. Then I noticed there was a butterfly dancing and flying inside the labyrinth. I knew that everything was a metaphor in a labyrinth walk.
I was usually quite scared of touching any insects including butterflies, but during that walk I felt I needed the courage to open up. I opened up my palms and invited the butterfly to come, if she liked.
And in a magical moment, she did. She landed on my finger, and I was bursting into tears. I didn't feel scared anymore. I knew now that everything was happening for a reason and I just needed to trust and surrender. I was reminded that the Universe was indeed here for me, and I was supported and loved, always, no matter what.
To me, it was a profoundly sacred experience. The labyrinth opened up a gateway for me to have a direct communication and experience with the Divine. I asked for help, and the Universe responded. I knew I was on the right path, and all I had to do was to keep going.
In a way, thankfully to the boom of technology use due to the global pandemic, Veriditas decided to offer their labyrinth facilitator trainings online, and one particular facilitator training course was offered for Australia and Asia time zone. That was in November 2020 and of course, I signed up. I was so excited to learn more about the labyrinth and how I could better share this tool with others.
That was also the first time when I experienced an online finger labyrinth walk. Indeed, finger labyrinths are as powerful as walking the labyrinth with our feet and body.
In my first finger labyrinth walk, I had the same feeling as I first walked in Museflower's labyrinth. I needed to concentrate to find my way. One time I was lost on the path three times "walking" with my finger.
As my hand touched and walked the labyrinth on paper, I could feel emotions arising, like my hand was touching and stirring the emotions that were hidden in the depths of my heart. Immediately after the finger labyrinth walk, I wrote down my experience and reflections in my journal. It was amazing how convenient it was to pull out a finger labyrinth and to do a hand "walk" anytime I wanted.
I am still learning so much about facilitating labyrinth walks and about myself during a labyrinth walk, same as the ever-learning journey of ourselves in this life.
We are always students in life, and I believe that the labyrinth is a gateway that connects us to our soul and to the unique path that we are here to walk.
The labyrinth is truly a spiritual tool for transformation. I am so grateful to have walked and experienced the labyrinth and I hope that one day, the labyrinth will also find you.
"Find your way to a labyrinth.
It is a crucible of change, a watering hole for the Spirit, a tool for manifestation, a mirror of the soul, a path of prayers, a beacon of light, and a crucible for community.
It is a place where we who are walking the Path can recognize one another."
~ Lauren Artress
At Museflower Retreat & Spa, we offer walking labyrinth meditations and labyrinth workshops at our property. We also offer themed online finger labyrinth walk from time to time. Be sure to sign up for our newsletter here to learn about our upcoming events and workshops both online and onsite.
If you want to learn more about what a labyrinth is and how to walk one, feel free to check out my blog back in January 2020 on "What a Labyrinth is and How to Walk a Labyrinth".
Find a labyrinth near you with Worldwide Labyrinth Locator: https://labyrinthlocator.com/