By Anna Suvorova and Tania Ho
17 March 2021
How I First Met Anna (and Super Foods)
I first met Anna Suvorova back in 2018 when she dropped by to visit Museflower. Anna was the first person who introduced raw cacao to me. She was a radiant being, beaming with enthusiasm and love. She brought me some super delicious raw cacao treats to try. That's when I knew I wanted to offer these same yummy raw cacao treats in our Museflower Life Festival the same year.
I later learned to make a simpler version of the raw cacao treats Anna has made. And I'm so grateful that she has introduced raw cacao into my life. I didn't know at that time, but I was already introduced to a super food.
Anna and I have reconnected in September 2020 when the global pandemic has stopped us from traveling internationally. Anna is also a yoga teacher and she regular teaches yoga in Chiang Rai town. She wanted to create a one-day programme at Museflower for her yoga students, combining a Super Foods Smoothie workshop in the morning, lunch and a relaxing spa afternoon.
I immediately signed up for Anna's Super Foods Smoothie workshop as a student. The only super food I knew at that time was raw cacao, and I was interested to learn more about the various types of super foods out there. I was also personally getting bored of preparing breakfast for myself, and I was curious on how people could just drink a smoothie in the morning for breakfast. Even crazier – a COLD smoothie, the worst for a Chinese person like me.
The workshop took place at Museflower on September 26, 2020, and I was so glad I signed up. Anna, being generous with her love of super foods (and humanity), brought each student a goodies bag filled with her own branded products.
In the workshop I learned how to make a real super food smoothie, the different types of super foods and their benefits. Anna brought all the super foods with her, so we could all smell and taste them. The fun part was to make our own super food smoothie mix, and to try out the other super food treats Anna prepared for us, such as nice cream (instead of ice cream) made with frozen bananas and coconut milk.
I find that taking in super foods in a form of a treat or smoothie makes it easier to incorporate into my daily life. It is not about being on a new diet or restricting myself from what I want to eat.
At first when I started with super food smoothie, I drank it before I had my breakfast. Soon I found that super food smoothie could just become my breakfast. My super food smoothie usually consists of Anna's FeelGood Super mix (spirulina, moringa, cacao nibs, acai powder, lion's mane), raw cacao powder, bananas, coconut water, and other fruits and superfood powder (carob powder, matcha powder) depends on what I feel like. I was already full and didn't need to eat anything else. I enjoyed the energy it brought me. And I found a way that I didn't need to take it cold.
With Anna's support and guidance, I've also started to practice intermittent fasting this year. So now I wait till lunch time when I drink my super food smoothie, and by that time the smoothie would have become room temperature.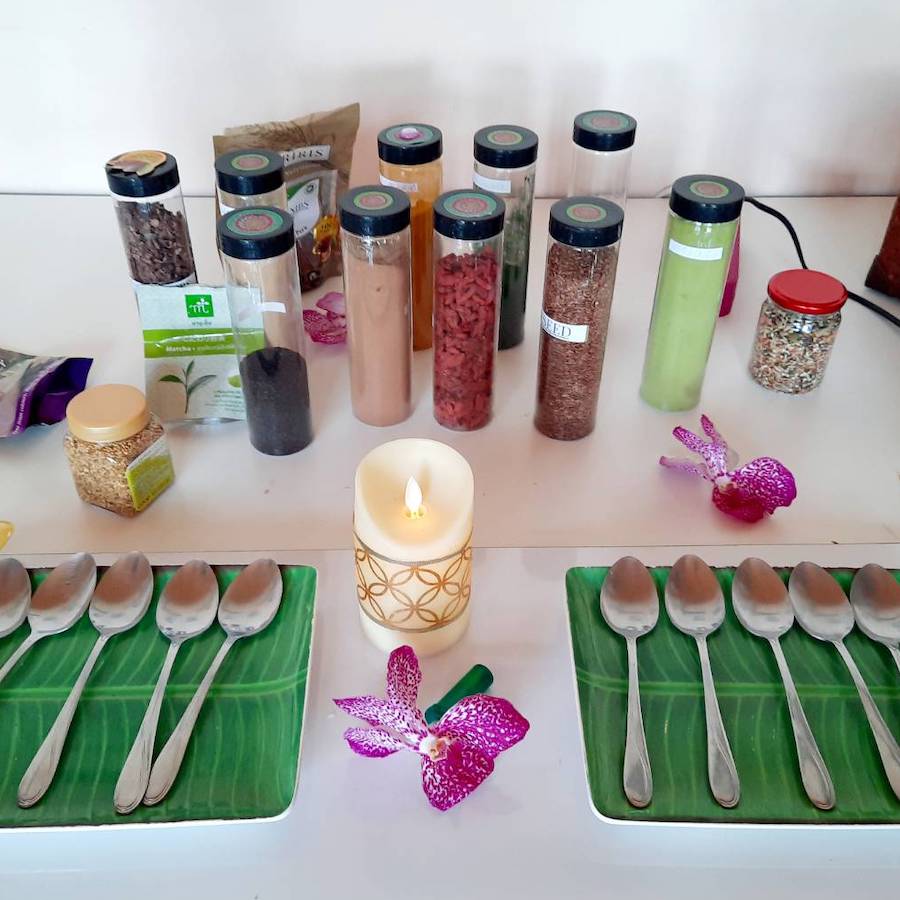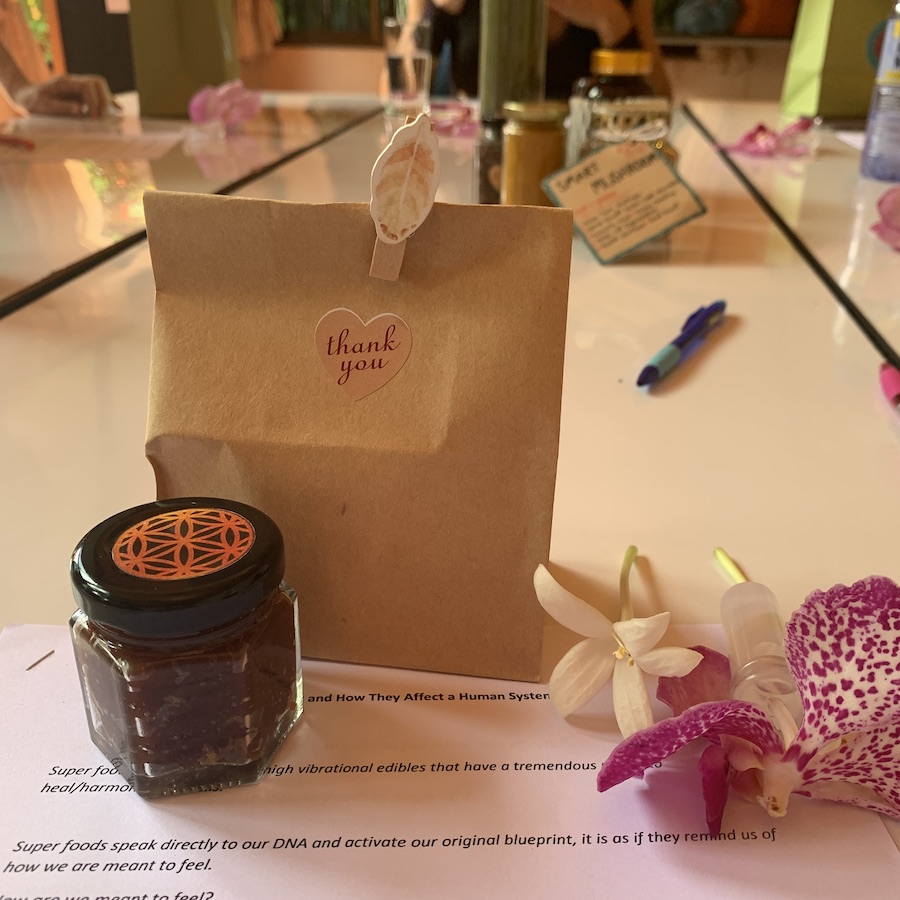 I have benefited so much from Anna's Super Food Smoothie workshop, and we have recreated a similar workshop during our Museflower Winter Magic Week in December 2020. Even still, I hope to share this information with more people, and so we decided to collaborate on this first virtual Super Foods workshop that Anna will be leading this March. Both Anna and I are very excited to introduce to more people how super foods can support our cellular health and state of well-being.
I personally think the most useful and essential part of our upcoming virtual workshop is to learn how to prepare and ingest these super foods properly. It's one thing to learn about the amazing benefits of spirulina. But not everyone likes the taste of it. Anna will show us how to recreate her yummy recipes of super food treats and edibles with love and fun.
When I first met Anna, she shared with me her healing journey with super foods and other wellness practices, and how she has come to where she is now today. Her story is truly inspiring of how she has healed herself and in Anna's own words, I'd like to share her story below.
Anna's Personal Healing Story 
"Vaccine shots in my childhood left me with severely compromised immunity. My health started deteriorating very fast. I felt disoriented, weak, dizzy, kept on fainting, and lost my appetite.
Being stuck in a body that did not cooperate and kept letting me down – was one of the greatest contrast experiences I had to encounter. It set up the course of my life.
I started studying the subject of WELL-BEING very early in life. My first inspirations were Paul Bragg, an alternative health food advocate and a detox mentor, and the amazing Louisa Hay.
By the age of 14 I experienced numerous detoxes and cleanses, and came to conclude that keeping the body clean on the inside was a miracle cure for any physical disharmony.
When I was 30, I was finally diagnosed with an auto-immune system disorder called lupus. I had two options – to take pharmaceuticals OR to find another way.
I refused medications and embarked upon a long and exciting journey of natural healing. There is hardly any diet or detox that I have not tried during my life time, being 53 this year – that is a lot of tries.
When one is not well, one is willing to do and try anything. Health is the greatest wealth. Some of us had to earn this wisdom.
I was determined to find a way to experience myself in a perfect state of health.  I did not know how I was going to do it, but I was open to try anything.
I went on different juice cleanses and detox programs (I even traveled with my juicer), I exercised, practiced breathing techniques, got into yoga, zapped, etc.
The truth is – when we turn down the commonly accepted way of healing, we are presented with a huge confusing sea of information where one research contradicts another.  I feel that it is the reason why so many of us don't take this self-exploration challenge; a known path is much safer to walk.
It is only natural that those of us who find ourselves on a self-healing journey, sooner or later find this "treasure cave" called super foods.
Superfoods are power plants. For thousands of years, humanity relied on the healing power of plants. Ayurveda, Oriental Medicine, Naturopathy, Herbalism, Shamanic healing, etc…… all these traditions understood the concept of Natural Laws and knew that plants heal.
So, when I stumbled across these magical edibles – superfoods, I was thrilled. They tasted much better than those Chinese herbs I was taking, and they were also fun to create yummy food with.
I started making super food shakes in my 30s and I fell in love with this easy and delicious way to nurture my cells. I still have at least one superfood shake a day.
With 23 years of experimenting with super foods, on my own self and numerous others whom I had the honor to assist, left me with no doubt that super foods have a profound transformational power to offer us.
What did I notice after taking super foods for a while?
Increased energy (any unwell person desires this one)
Stronger immunity (I was not catching every bug flying around anymore)
Better sleep
Calmer and happier predisposition
Good skin (finally!)
Feeling better about myself
To say that super foods are the answer to all our problems would not be true. I am also a great plant-based food and intermittent fasting advocate. Being well, healthy and energetic takes more than just ingesting high-vibe nutrient-dense food.
It is our mental attitude, it is our environment, it is our passion for life, our connection to Higher Power/Infinite Intelligence that make us super fit and healthy in every aspect of our being.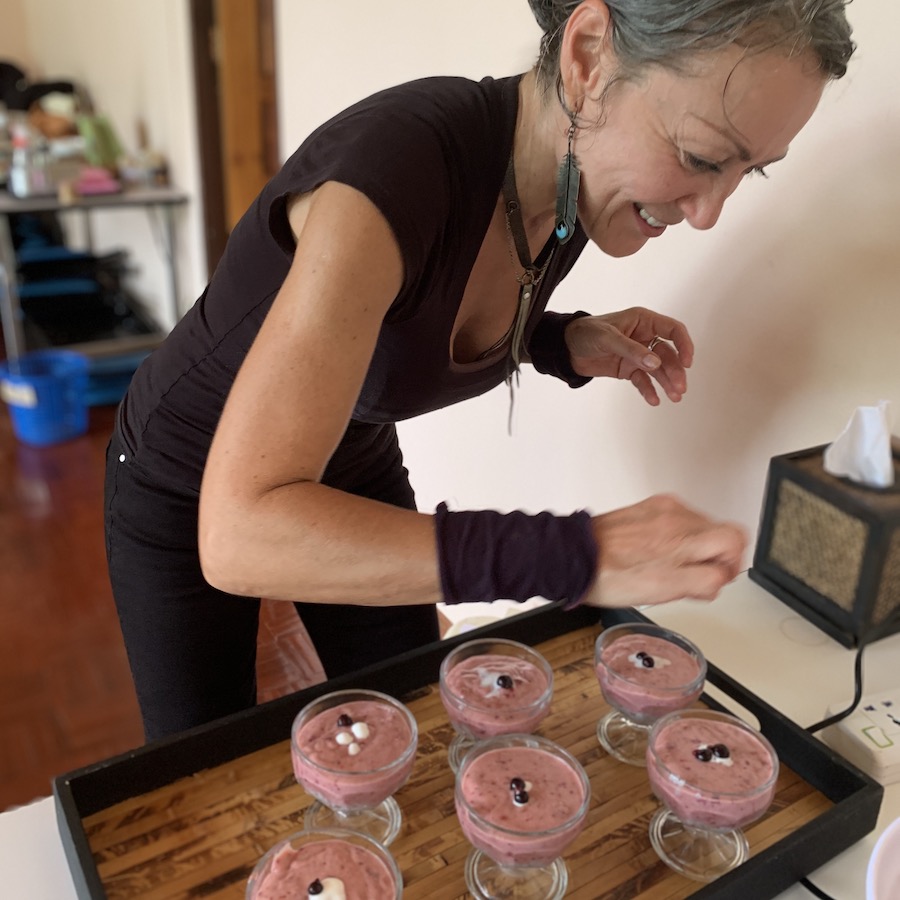 Download Anna's Free Book "Chocolate Revolution" Here to Learn All About Raw Cacao and Chocolate
If you wish to know more about my healing journey and how food influences our state of being, you are welcome to download my first book "Chocolate Revolution" for free here: https://www.yogaofchange.com/thebook
Are you interested to invite the amazing healing benefits of super foods into your life?
Check out our upcoming virtual workshop with Anna Suvorova on Super Foods Intro – Easy Treats for Cellular Healing on March 27, 2021 (Saturday).
Date: March 27, 2021 (Saturday)
Time: 3.00 – 5pm Thailand time (convert to your time zone here)
Hosts: Anna Suvorova, health yoga education and self-healing advocate with host Tania Ho, Museflower Retreat & Spa Founder
Platform: Zoom
Cost: 1,500THB per person (or USD 50 for overseas participant)
Payment Method: Credit Card via Paypal (USD/THB) or Bank Transfer (THB)
How to Register:  Click our "Register Here" button on the right to register via Zoom. Your registration will be approved once the payment is received.
Want to feel healthy, energetic and inspired?
Super Foods are the key to boost your immunity, improve your energy, enjoy more mental clarity, and to restore your state of wellbeing!
Join Museflower's Virtual Superfoods Intro Workshop to learn about how these plant-derived high vibrational edibles, such as spirulina, raw cacao, chia seed, and goji berry, have the power to heal and balance our cells.
Super foods speak directly to our DNA and activate our original blueprint. They remind us of how we are meant to feel – Ah-MAZING!
Anna Suvorova, health yoga educator and self-healing advocate, healed herself naturally from an auto-immune disorder 20 years ago with the help of Super Foods and knowledge from spiritual traditions.  Anna is excited to share with you how we can invite these Nature's gifts into our lives for stronger immunity, better mood and sleep, increased energy level and mental clarity, and more radiance.
In this 2-hour workshop, Anna will guide you step-by-step to recreate her delicious Super Food recipe. You will learn:
Introduction of Super Foods: What are they and how they can help you
How to make:

SuperPower Smoothie
Nice Cream
5-mins Chocolate Spread
Chia Pudding
Berry Parfait

Plus more recipes to take home
Learn how to create easy Super Foods treats to support your health on all levels. No cooking experience required!
All participants will receive a copy of the Google slides with information of the Super Foods, recipes, and 30-day online access to download the class recording. Can't join us live? No worries! You can download the recording and watch the class at your free time.